If you're experiencing issues pairing your ANT+ devices to TrainerRoad, you're in the right place to get some help. This article will help you identify problems with your USB stick or your computer. These are the same steps that our support crew use when you e-mail us, so please make sure you try these steps before contacting us.
If you are unsure of what you need to use ANT+ devices with TrainerRoad, you can learn all about it in the ANT+ article.
---
Step 1: Plug the ANT+ USB Stick into Your Computer or Device
This is what you will see if the ANT+ USB stick is not plugged into your computer's USB port or is not recognized. If the ANT+ stick is plugged in and still not recognized, there may be something wrong with the stick or your computer's USB port.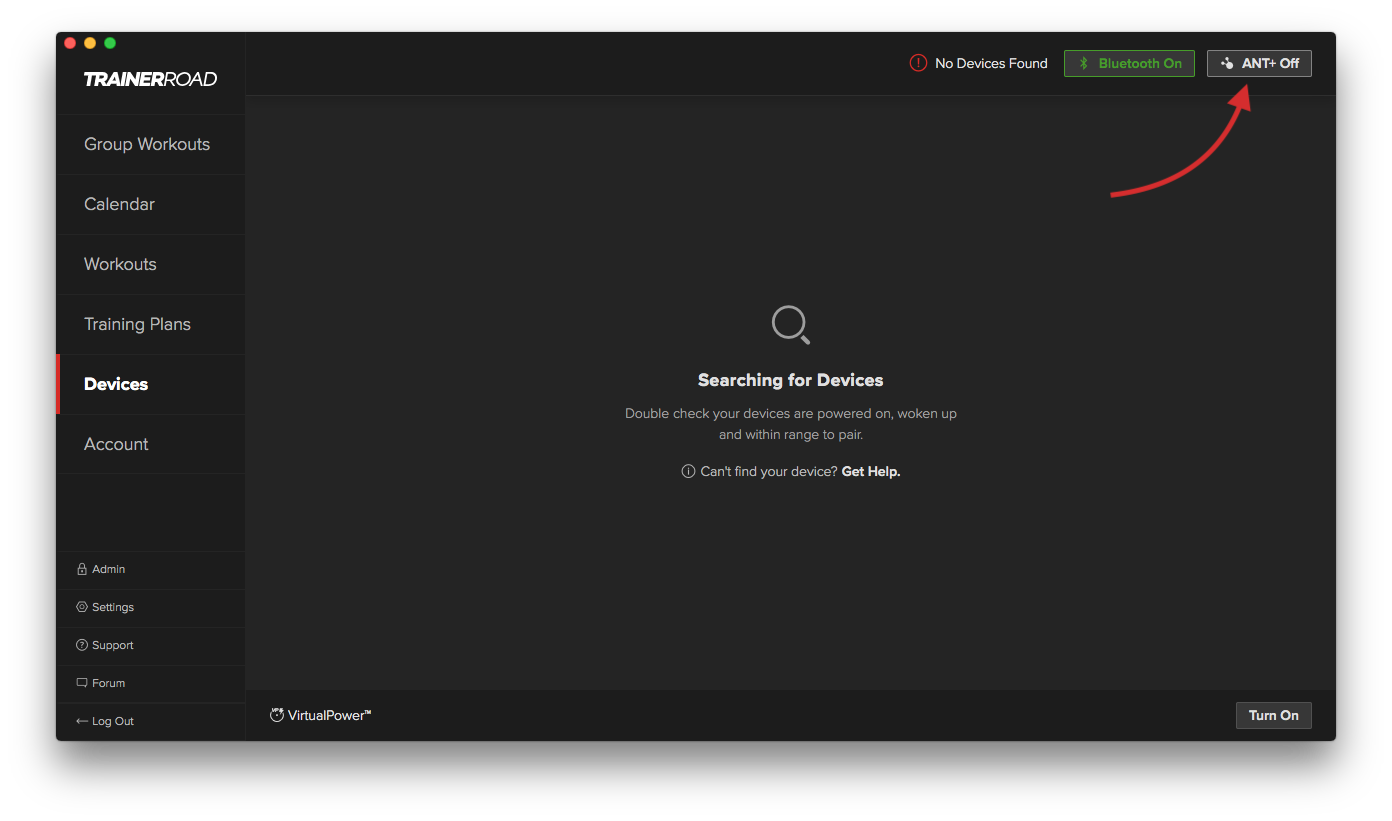 ---
Step 2: Install Device Drivers
If you're on a PC, make sure you've installed the ANT+ USB Stick and Bluetooth Drivers.
For Mac users, there is no need to install these. Apple computers come with the necessary drivers already installed so you can skip this and continue to the next step.
How to Check for Installed Drivers
To check if the drivers are installed, go to "start" and type "Device manager". Load the program called device manager. The device might be displayed in two different locations.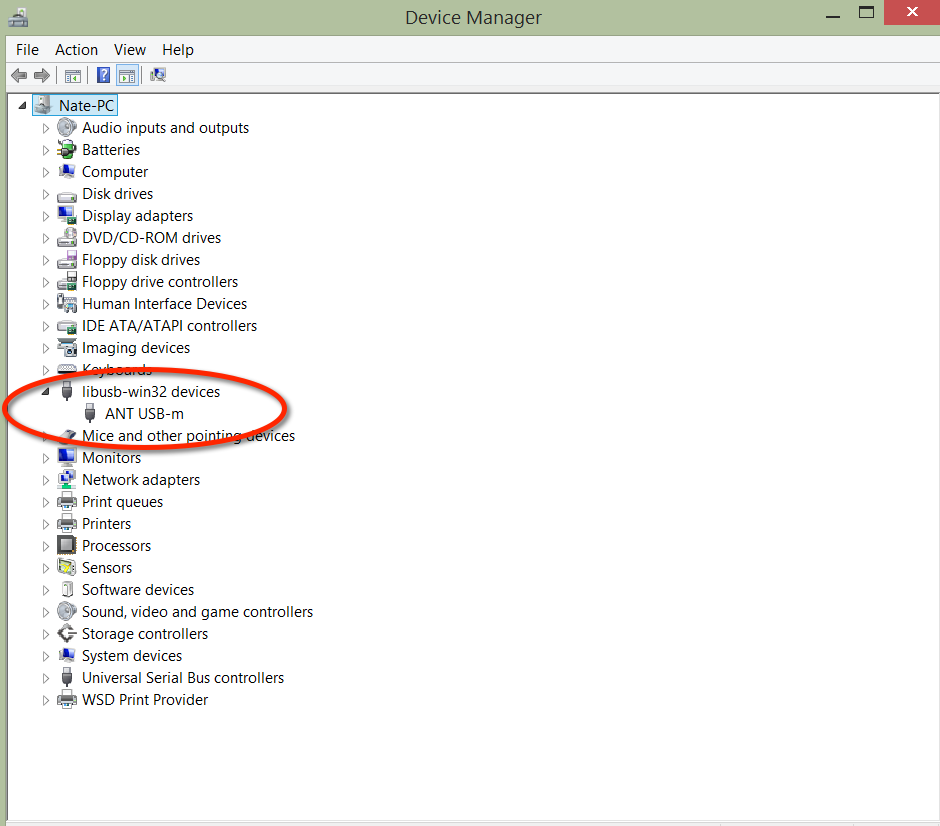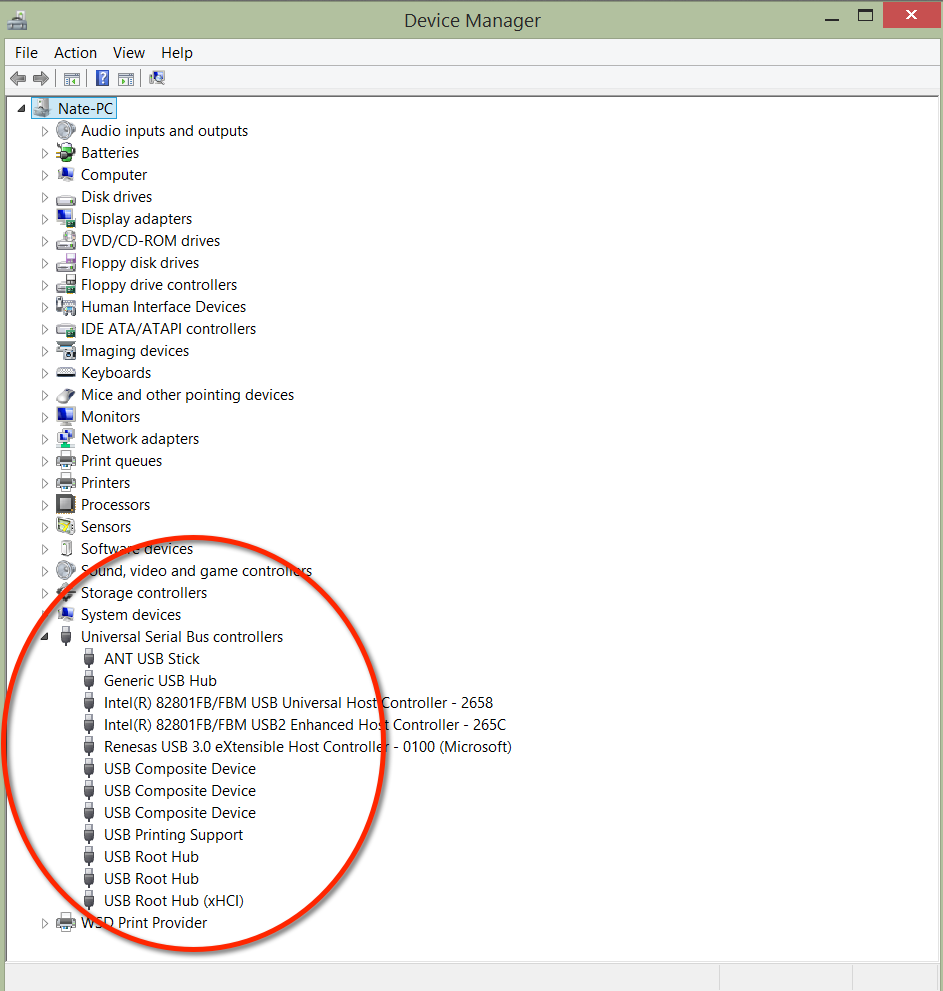 Trouble installing drivers?
If it looks like the drivers won't install, the next step is to try another USB Port. If that doesn't work, try installing the drivers on another computer. If you still can't install the drivers on another computer, it is likely that you have a bad ANT stick and will need a new one. If you have access to another ANT+ USB stick, try that on both computers and see if the drivers will install.
It's also possible the driver was corrupted or changed by your OS or another software program. To fix this, you can uninstall your device drivers and perform a fresh install by following the instructions on this page.
Drivers install on another computer, but not the one you train with?
We've seen this a few times and there's not much we can do. There is likely a system-level problem keeping you from installing the drivers for the USB stick. A refresh of the operating system is often needed. This is depressing, I know. This occurs because there is a system-level problem between the operating system and Garmin's drivers for the ANT+ stick. Make sure that you test that ANT stick on more computers and USB ports on your computer before you reach this drastic level of refreshing your OS.
---
Step 3: Check for Conflicts
If the drivers are installed properly, but TrainerRoad cannot find the ANT+ USB stick, there may be conflicting programs as only one program can access the ANT+ USB stick at a time.
Check for Garmin ANT Agent, or Garmin Express in the system tray. If that program is on, make sure you exit it. See screenshot examples below, or watch this video on How to Disable Garmin ANT Agent.
With Garmin Express, you'll need to make sure that it's closed fully, and not running in the background, which it can default to. Check your system taskbar to ensure that it isn't running. If it is still in your taskbar, follow the images below to exit it.
Garmin Express (PC)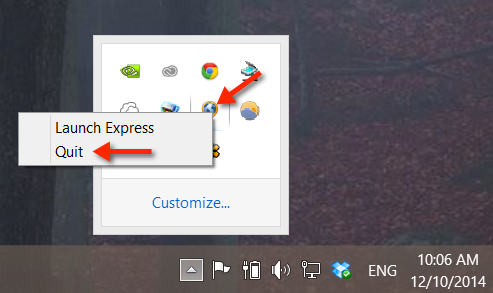 Garmin Express (Mac)

Garmin ANT Agent (Mac)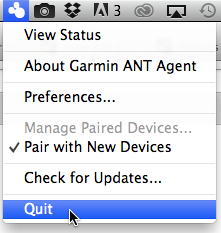 Make sure to select "Quit" to exit out of Garmin Express entirely.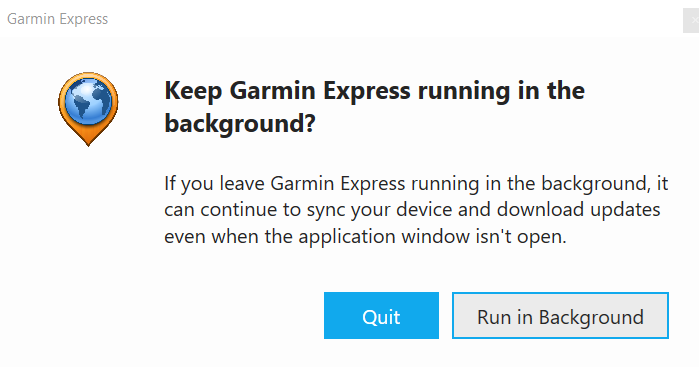 Have an Acer or other computer with Soluto installed?
We've seen some pre-installed software on Acer computers (and some others) that mess with ANT+ USB sticks. If you have an Acer computer, you can manually stop these interruptive programs.
Go to start, then type "taskmgr".
Go to the process tab and look for something called "Soluto".
If you see that process, click on it and click "end task".
If that fixes the problem, you'll want to use the Soluto uninstall tool and remove it from your computer.
Note: If you can't download the Soluto Uninstall Tool above by clicking it, please try right-clicking it and copying the link address to open it in a new tab.
---
Step 4: Check if Garmin Express Can Detect the Stick
If TrainerRoad can not find the stick, and there are no conflicting problems then we want to test the stick in Garmin's software to make sure it works.
Open Garmin Express and locate it in the system tray (PC) or taskbar (mac), and click to open it.
Make sure to close out of the Garmin Express window once done testing, and to close it from the taskbar as shown in the photos above.
Working: Device is Connected and Active
PC Example
Mac Example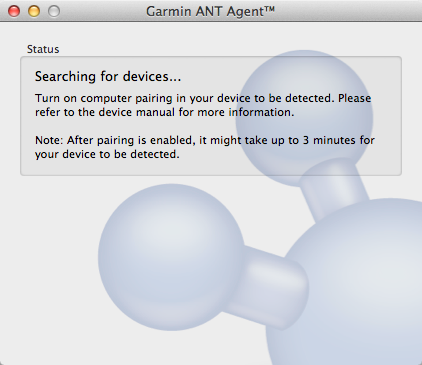 Not Working: Device is Not Connected and Inactive
PC Example
Mac Example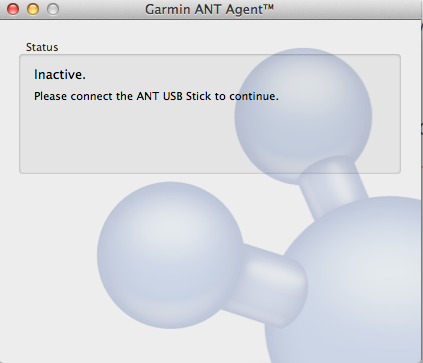 What do I do if Garmin ANT Agent/Express does not detect the ANT+ USB Stick?
If the drivers are properly installed and Garmin ANT Agent/Express can't detect the stick, you'll want to repeat the process on another USB port on your computer. If you get the same result try it again on another computer.
If you can't get TrainerRoad or Garmin ANT Agent/Express to detect the USB stick, you likely have a bad ANT stick and should return/exchange it from your place of purchase.
---
Still having problems?
If you've gone through all the steps above, shoot us an email at support@trainerroad.com. To help us with the ticket, please let us know your username, your operating system, your computer brand, how the above steps went for you and what kind of ANT+ USB stick you have, details below to figure out what kind of stick you have.
Don't know which type of USB stick you have?
There are two kinds of ANT+ USB sticks to choose from: USB 1.0 and USB 2.0. USB 1.0 can connect up to 4 devices at a time, while USB 2.0 can handle up to 8. Most newer sticks will be 2.0 since 1.0 is no longer in production.
For more information on how ANT+ works with TrainerRoad and which dongles we recommend, please visit the article on ANT+ Connectivity.