The TrainerRoad Calendar gives you the freedom to create and plan your entire upcoming season. Whether you want to add a classic training plan or fine-tune one to fit your needs, Calendar does it all.
Along with that, it implements past ride data allowing you to visualize not only what you've achieved but also where you can improve. Our Calendar is the perfect tool to help you get faster.
Calendar Navigation
The first thing you'll notice is your Training Stress graph pinned to the top of your calendar. It includes your planned Training Stress (grey bars) and the Training Stress you've completed.
The Training Stress graph also doubles as navigation. If you click on any of the weekly bars, you'll be scrolled to that week on the calendar. It's fast and easy.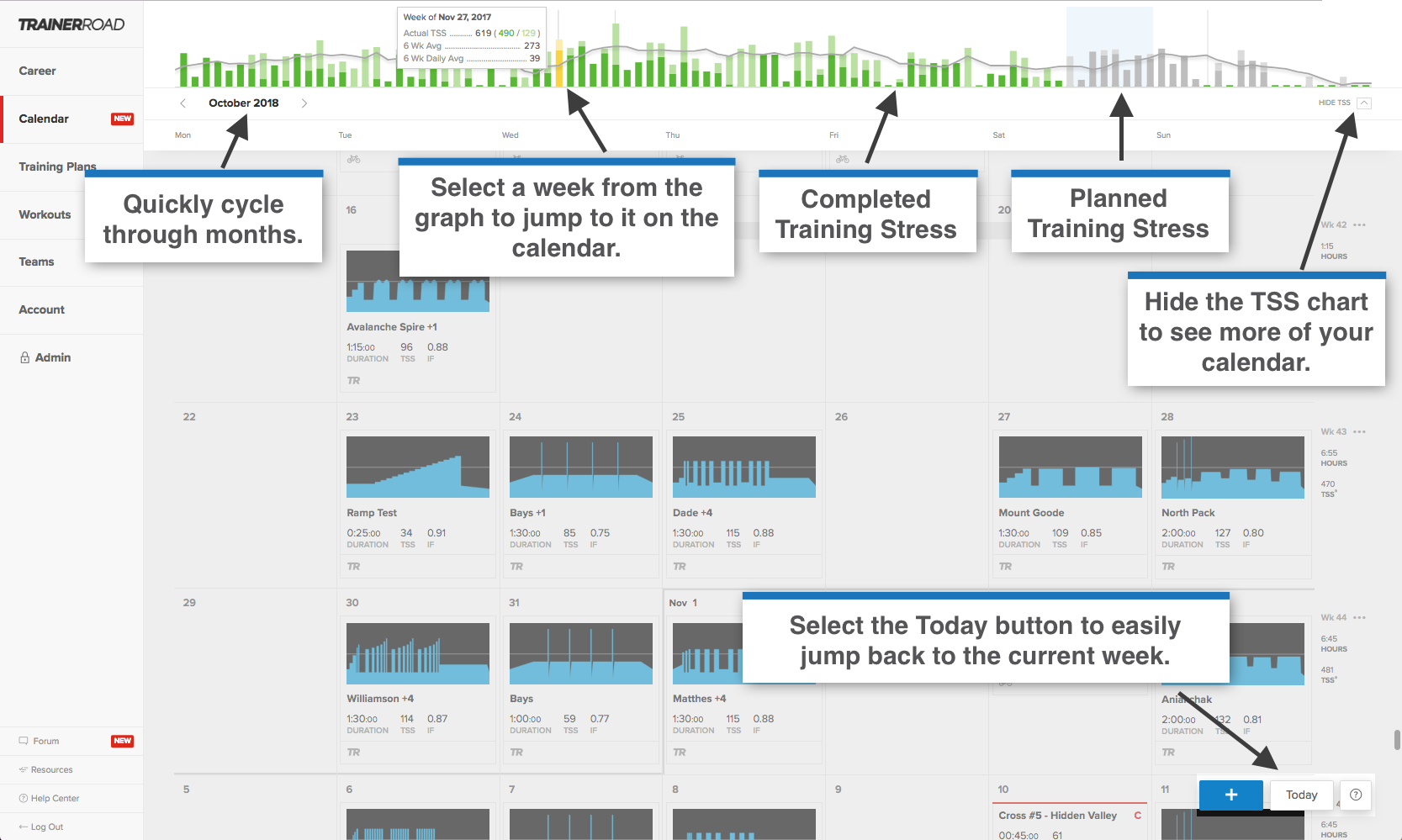 You'll also find that there is an infinite scroll feature for navigating through different months. Rather than having to manually select a month, just scroll the page and the calendar updates dynamically. You can always see what month and year you are viewing in the upper left-hand corner of the Calendar.
Workouts, Races, and Annotations can all be added to the Calendar simply by clicking the date on which you'd like to add your event, workout, etc. This will bring up a popup menu where you can select what you'd like to add.
Once workouts are added to the Calendar, they can be freely moved by dragging and dropping. Note that if you are using a Plan Builder plan and manually adjust the placement of workouts, we will no longer be able to "re-calculate" the plan as a whole automatically if needed.
Planning Ahead
Planning your season can be the most important thing when training. The calendar allows you to plan up to an entire year in advance giving you the ability to add any and all workouts leading up to your race/event.
Along with that, it'll display past rides as far back as you have data, whether it be indoor or outdoor. This gives you a high-level visualization of your training as you plan ahead.
For more information on planning your season with our Plan Builder, check out the article below:
For information on adding a pre-built plan, see the below link: