With Calendar, nothing is permanent. You can add, move, and delete items as you please.
Edit/Reschedule/Delete a Single Ride or Event
For anything and everything on Calendar, you have the option to edit something by simply clicking on the event. Whether it's a TrainerRoad workout, an annotation, or even an "Other Workout", select it to open its corresponding dialogue box. Then make any changes you need to!
Drag and Drop
One of the easiest ways to edit your calendar is the drag and drop feature. Whether it's a prescribed workout in your plan, a custom non-cycling workout, or even an annotation, they can all be moved to any part of your calendar.
Simply click and drag any item in your calendar to drop it onto a new day. This is a fantastic way to make last minute changes to your training plan or schedule in general.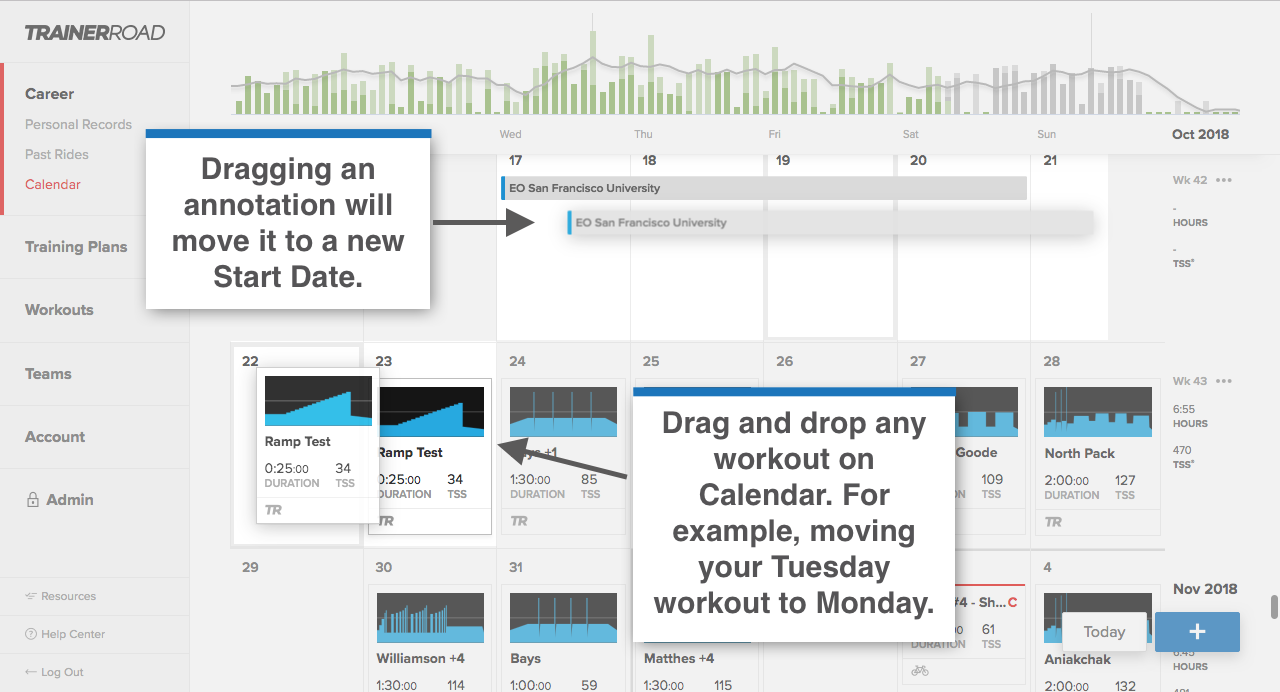 Copy/Delete a Single Activity
When hovering over an activity, you'll see two quick options to either copy or delete the activity. This can be done with past or future activities.
Copying a Completed Outdoor Ride - this will copy the actual metrics that were recorded for that ride and create a planned version of it.
Copying a Planned Outdoor Ride - this will make an identical copy of the planned ride.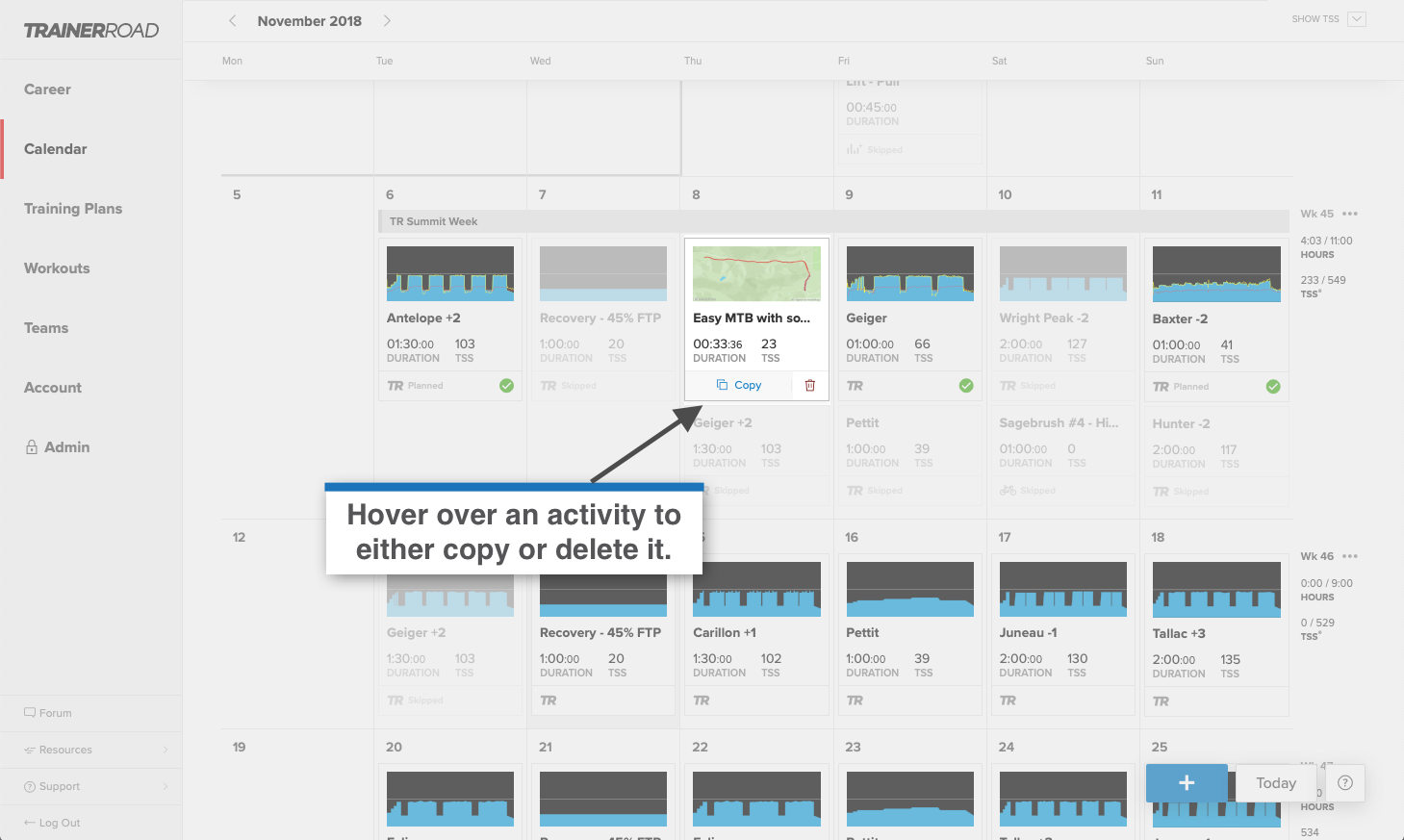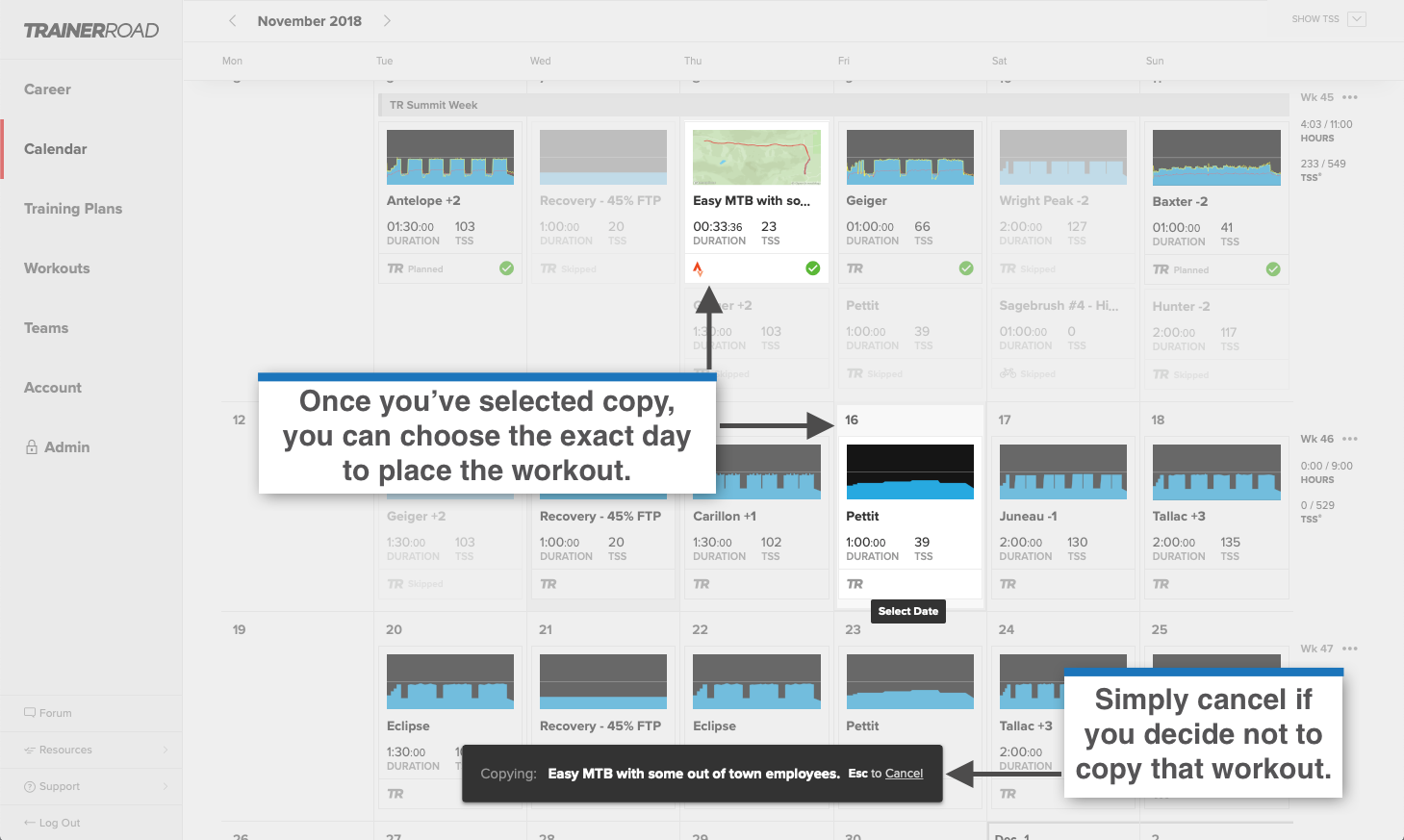 Manipulating Entire Weeks
Weeks can be edited altogether by utilizing the ellipsis button on the right side of Calendar. This only applies to the current and all future weeks. When you select the ellipsis, depending on the week, you have the option to Copy, Move, and Clear Week.
Note: Since the introduction of Adaptive Training pushing and pulling weeks is no longer necessary. Push and pull options will not be displayed if Adaptive Training is enabled. With Adaptive Training enabled we recommend you add Time Off to your calendar for work, illness, injury, or anything keeping you away from training, in place of moving your training weeks around. To find out how to add Time Off to your calendar visit our Help Center article below: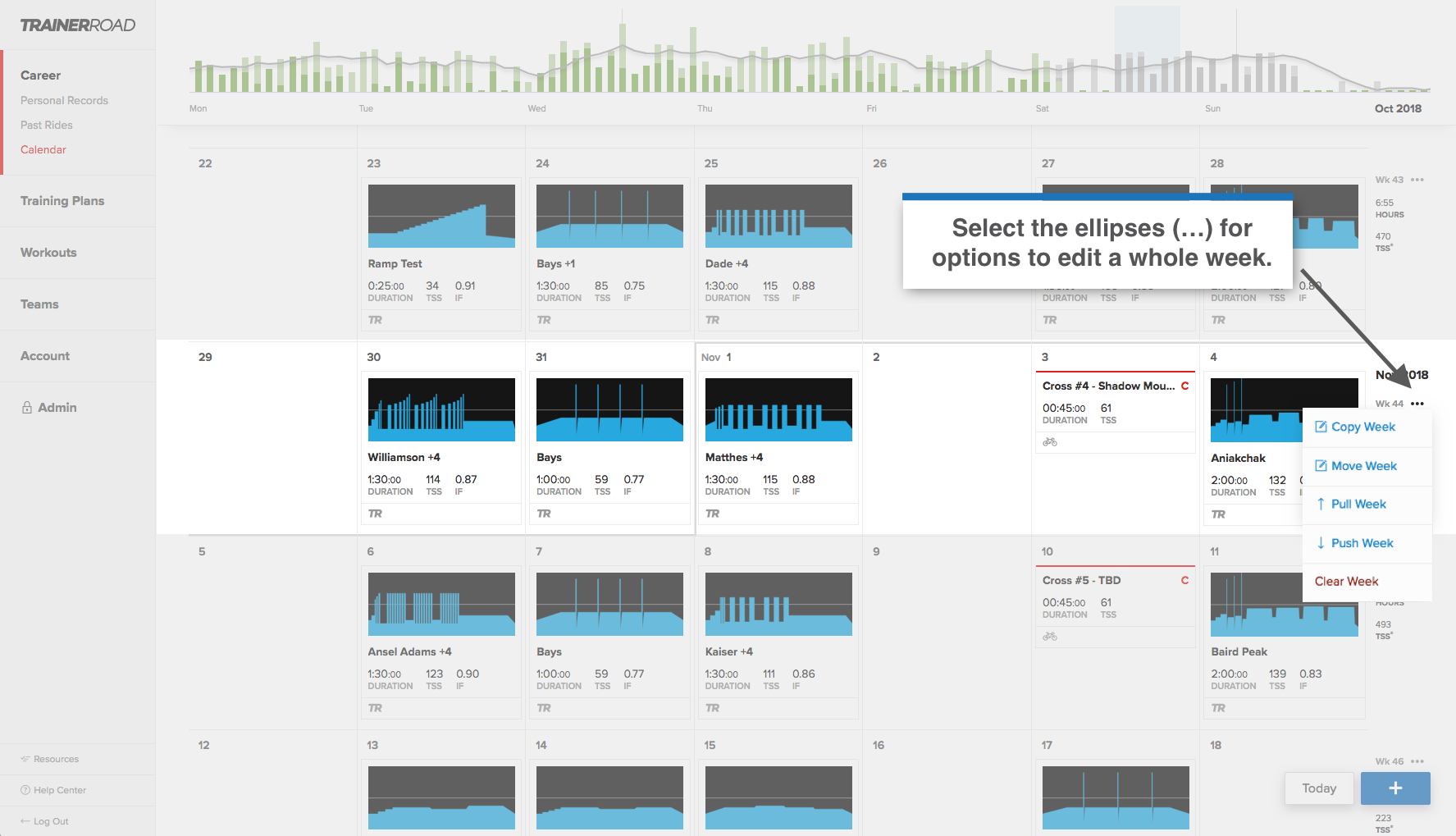 Copy Week - Copying the week allows you to copy all planned workouts and then paste them into a different week. This applies to TrainerRoad and "Other" workouts. You can even grab past weeks as well. As long as the week had planned workouts.
Move Week - Moving the week works very similarly to a simple "cut and paste" feature. You can simply take a week of planned workouts and move them to a new week.
This does not affect your overall plan. For example, all other weeks of your plan will stay exactly where they are, unlike when you use the Push or Pull feature mentioned below. Lastly, annotations will stay exactly where they are when moving a week.
Note: The "Move Week" option is only available on your current and future weeks when no workouts have been completed. You cannot move past weeks.
Clear Week - allows you to clear all workouts in a single week. Along with that, it will also clear all annotations. Therefore, leaving you with a completely blank slate.

Deleting Entire Plan
Deleting a plan is just as easy as adding one. When a plan is added, an annotation is added to the first workout in the plan. The annotation shows that the plan is starting on that day. To delete the plan, simply click on this annotation. A dialogue box will open with the option to delete the plan.