You can now watch video content during your TrainerRoad workouts on iPads, iPhones, and iPods!
iPadOS 13 (and newer) and iOS 14 allows you to overlay videos from the Safari browser on the TrainerRoad Workout Player. It's essentially like Picture in Picture (PiP) — something you may remember using back in the day on your TV.
Gone are the days of having to use your iPad/iPhone for training and another display for your entertainment. You can now have it all on one screen!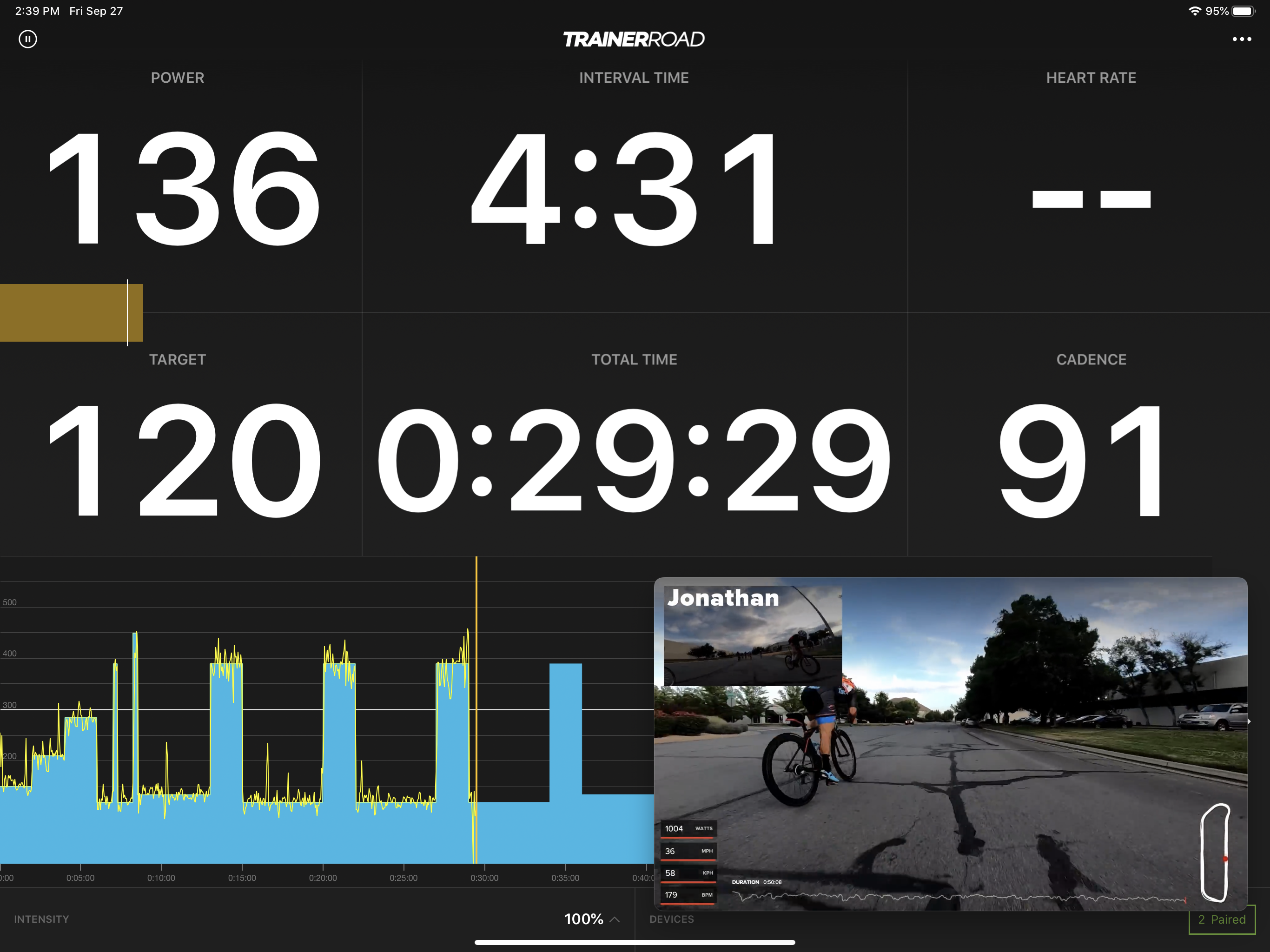 Things to Note
This is only available when playing videos through the Safari browser. So you won't use a native streaming app, but instead open a video streaming service from Safari.
To watch a video overlaid on your TrainerRoad workout, you'll need to update your iPad/iPhone/iPod to the latest operating system (iPadOS 13 or newer, and iOS 14). Click here for instructions on how to update to the latest operating system.
It has been possible to use a native video streaming app alongside TR on your iPad with Split View. The problem is the scaling doesn't play nicely. Overlaying the video with Safari solves that.
How to Overlay Video on Your Workout
Open your video of choice in Safari. You should be able to overlay any video that can be opened from the Safari browser (we've tested Youtube, Netflix, Hulu, Vimeo, and Twitch).
Put the video in full-screen by selecting the full-screen icon in the bottom right-hand corner of the video player.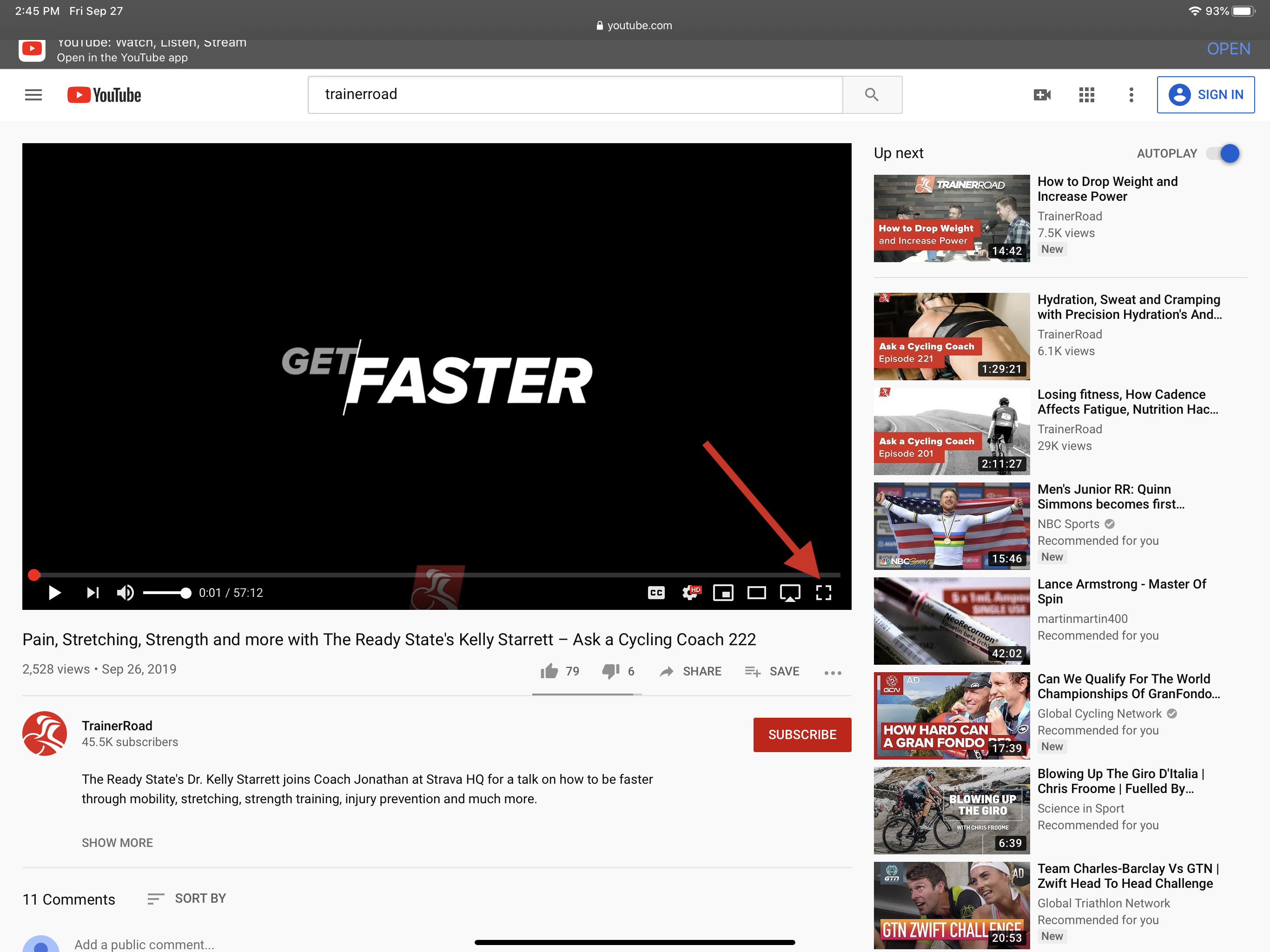 Once the video is full-screened, two icons will appear at the top of the screen. One is an "X", to leave the full-screen view, and the other resizes the window which will now "float" on your screen.
Select the latter.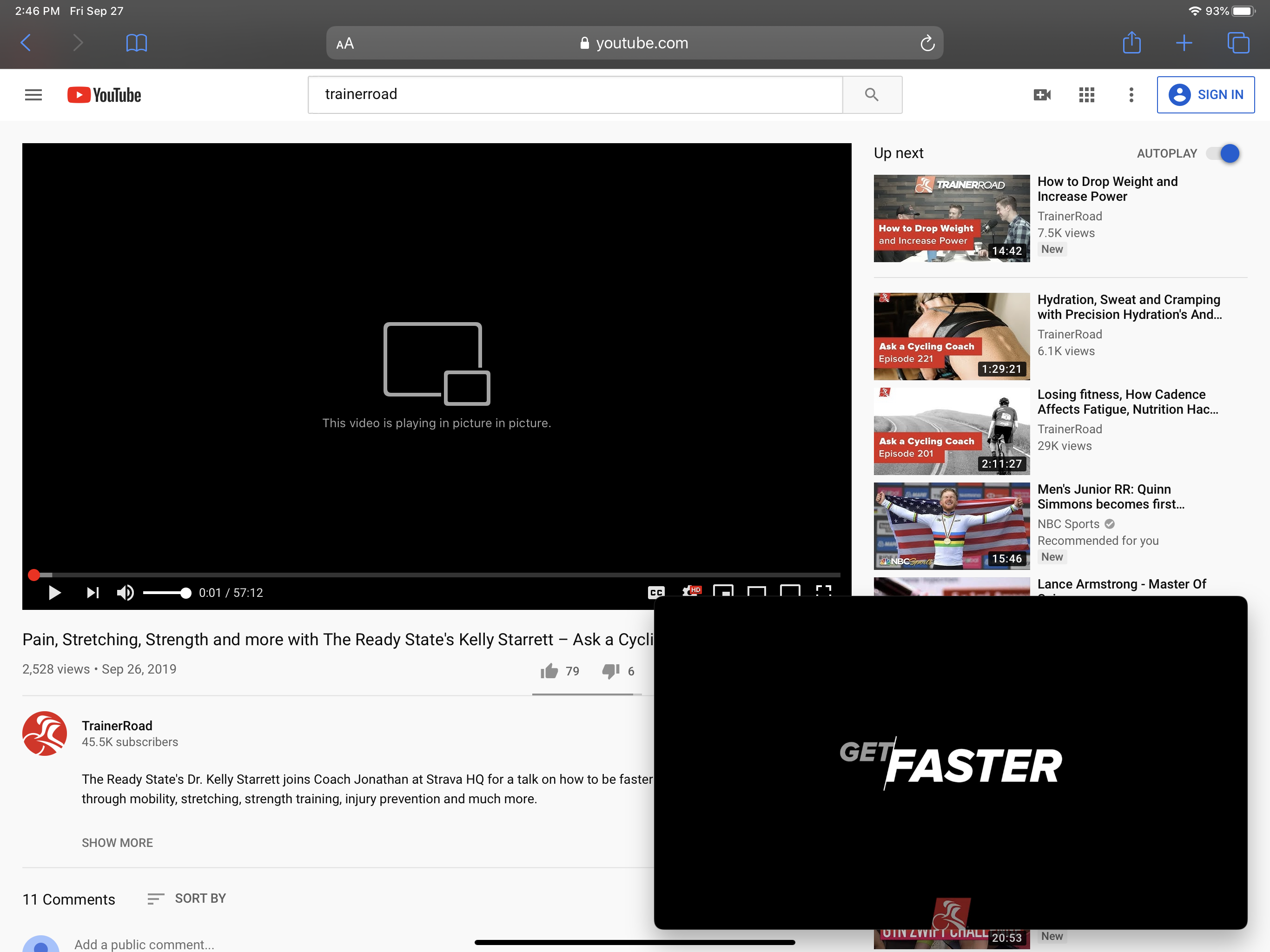 Now, exit the main Safari browser and open TrainerRoad. Select your workout and you're ready to ride!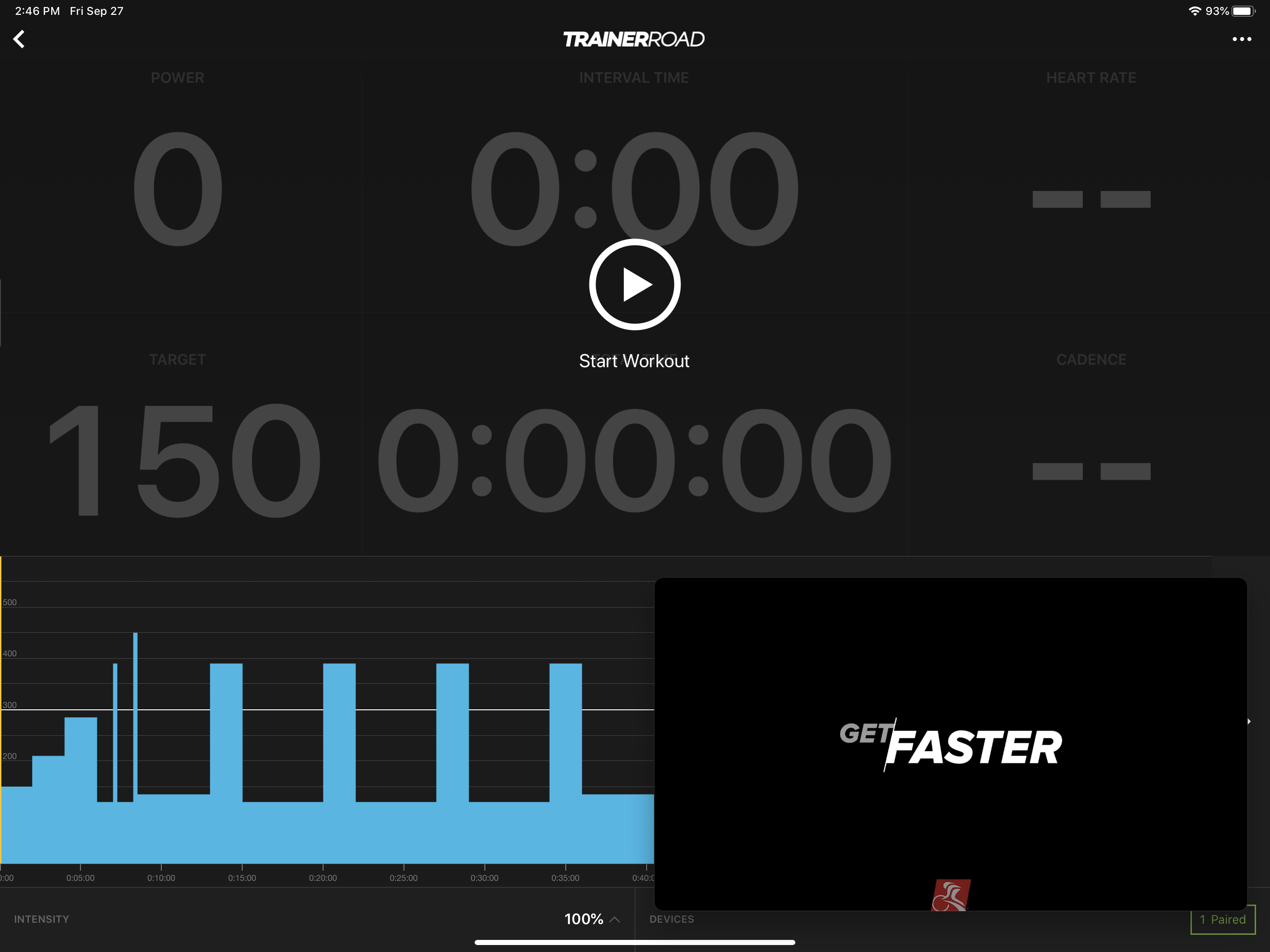 You have the ability to resize the window and move it around.
If you're in the first half of your workout, placing it in the bottom right corner works well. If you're towards the end of your ride, bottom left corner is good placement. That way you can still view where you are in your interval and all your ride metrics from the top of the screen.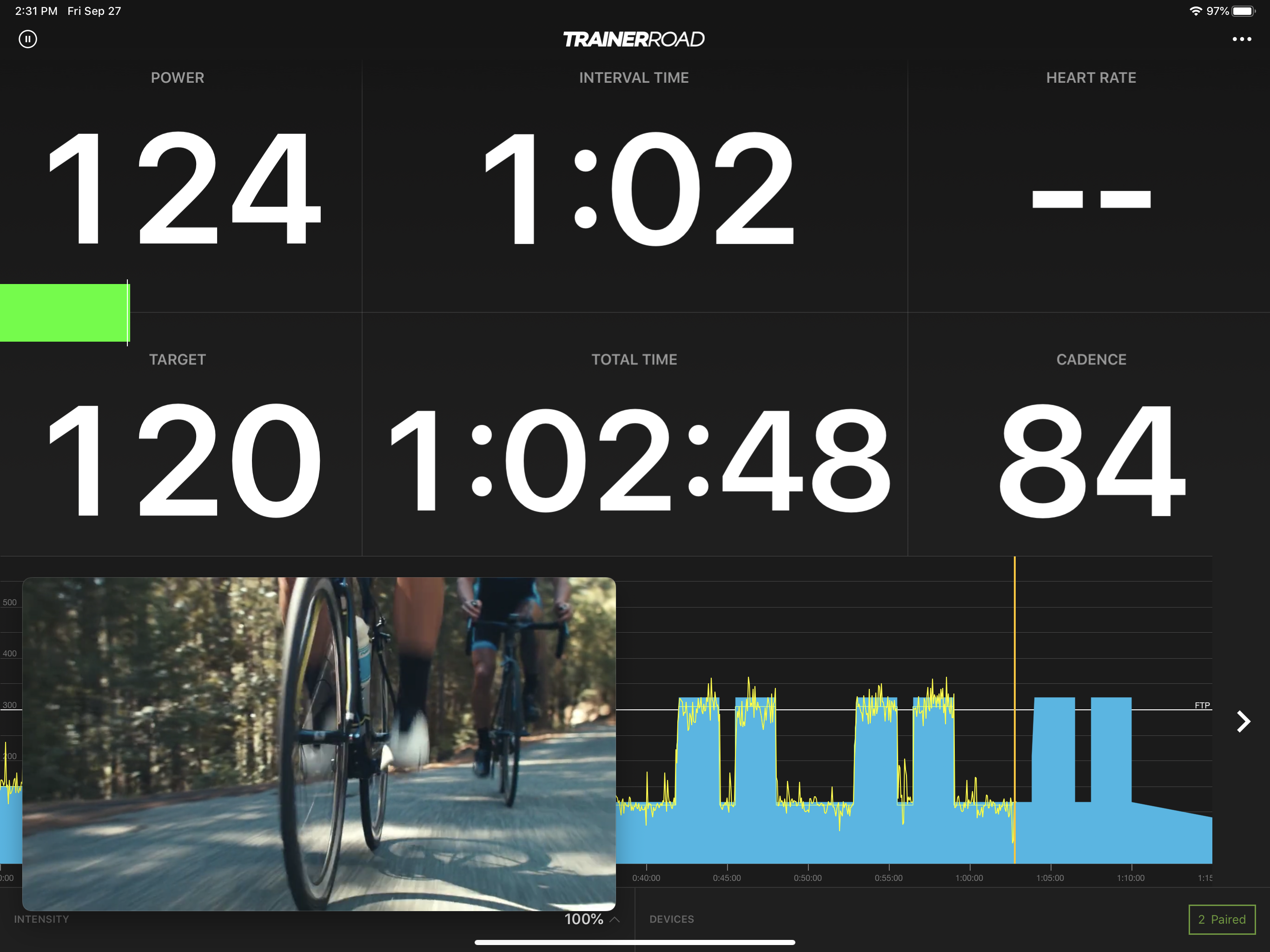 Compatible Devices
iPadOS is compatible with the following iPads:
12.9-inch iPad Pro
11-inch iPad Pro
10.5-inch iPad Pro
9.7-inch iPad Pro
iPad (7th generation)
iPad (6th generation)
iPad (5th generation)
iPad mini (5th generation)
iPad mini 4
iPad Air (3rd generation)
iPad Air 2
iOS 14 is compatible on the following iPhones/iPods:
iPhone 11, 11 Pro, 11 Pro Max
iPhone XS and XS Max
iPhone XR
iPhone X
iPhone 8
iPhone 8
iPhone 7
iPhone 7
iPhone 6S
iPhone 6S
iPhone SE (2020)
iPhone SE (2016)
iPod Touch (7th gen)
Let us know at support@trainerroad.com if you find other video sources that work on Safari.
Happy Training!