Connecting your TrainerRoad with Final Surge accounts will allow you to sync your completed TrainerRoad workouts to Final Surge.
Final Surge custom workouts can also be synced to TrainerRoad. Please note that custom workouts will only sync if they are scheduled within two days of the current day.
Custom workouts automatically sync to TrainerRoad once a day. To manually pull a custom workout before the automatic sync, access the following page, and select "Pull Workouts": Ride Sync
Note: We do not sync completed Final Surge workouts to TrainerRoad - only custom, planned workouts.
How to Automatically Sync workouts between TrainerRoad and Final Surge
By syncing Final Surge and TrainerRoad, your completed TrainerRoad workouts sync to Final Surge and your custom Final Surge workouts sync to TrainerRoad.
We don't sync any other types of activities between platforms with this integration.
How to Sync your Accounts:
Set up Ride Sync with Final Surge from your online Account settings: Ride Sync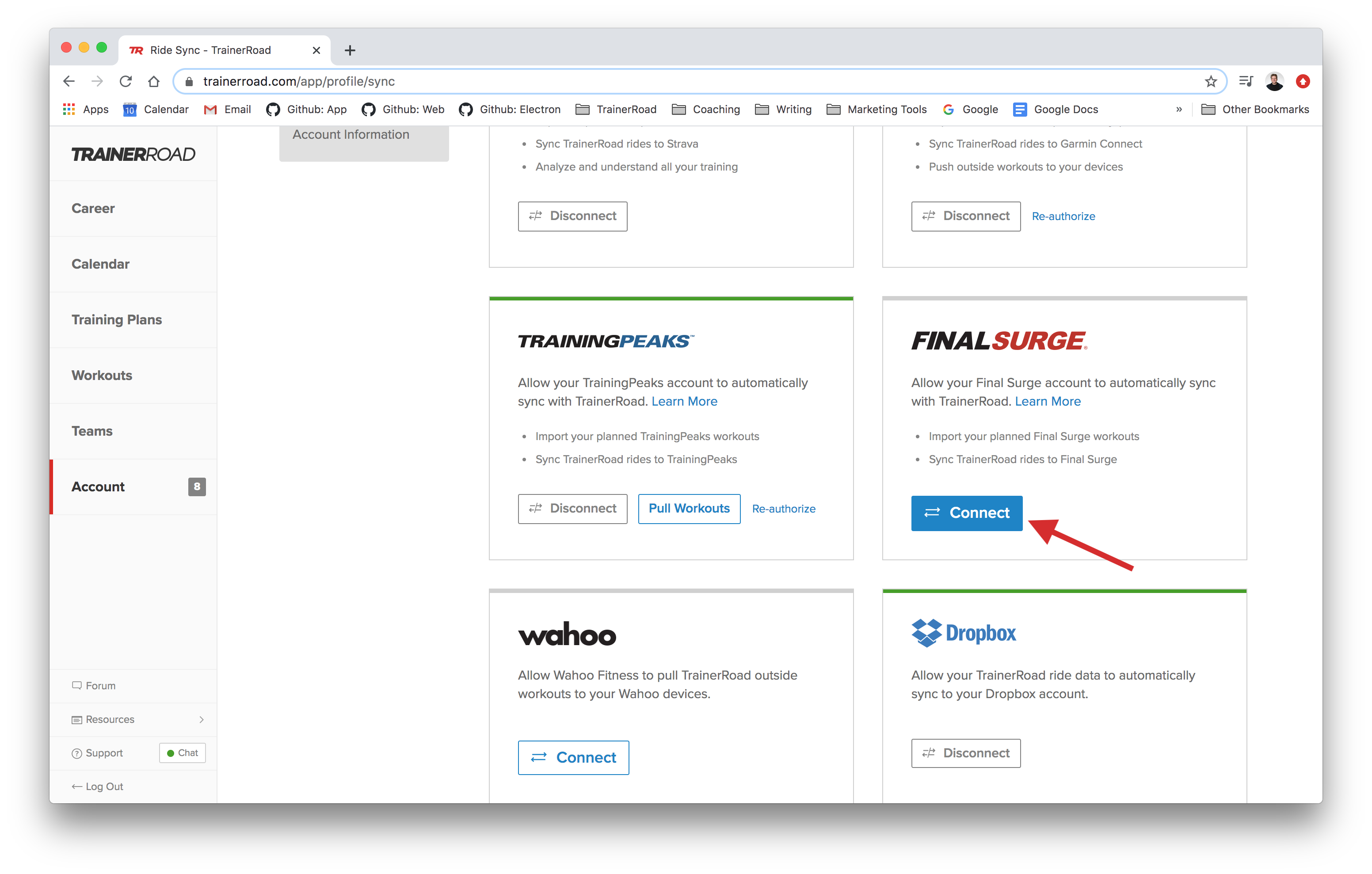 How to Manually Sync Custom Final Surge Workouts into TrainerRoad
Custom workouts automatically sync to TrainerRoad four times per day. To manually pull a custom workout before the automatic sync, access the following page, and select "Pull Workouts": Ride Sync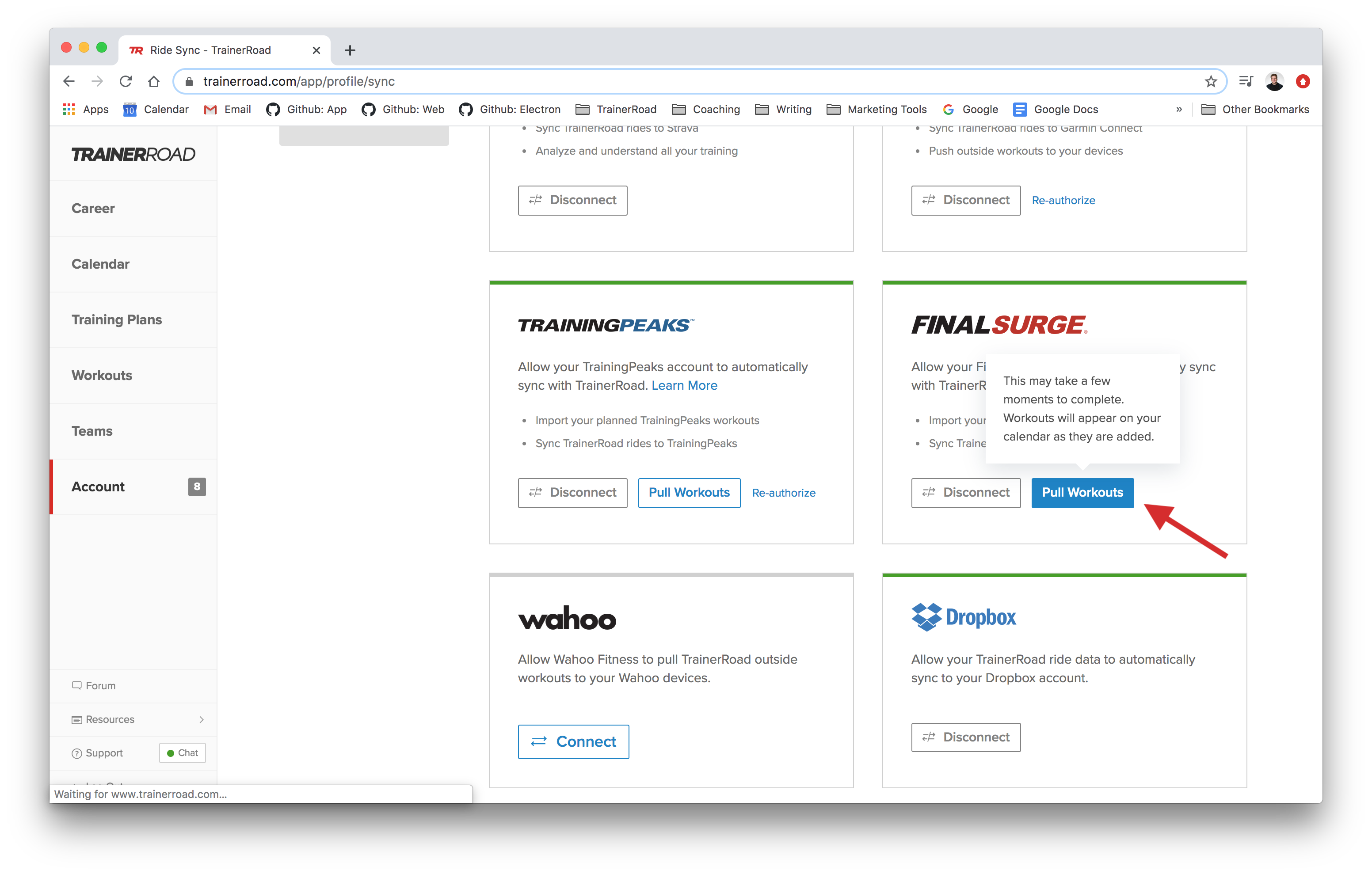 How to Build Custom Workouts in Final Surge for TrainerRoad
Step 1.
Access your Final Surge calendar: Final Surge
Note: you'll need to use the Beta version of the Final Surge calendar to create custom workouts. To access the Beta version of the site, select the last icon in the navigation above the calendar.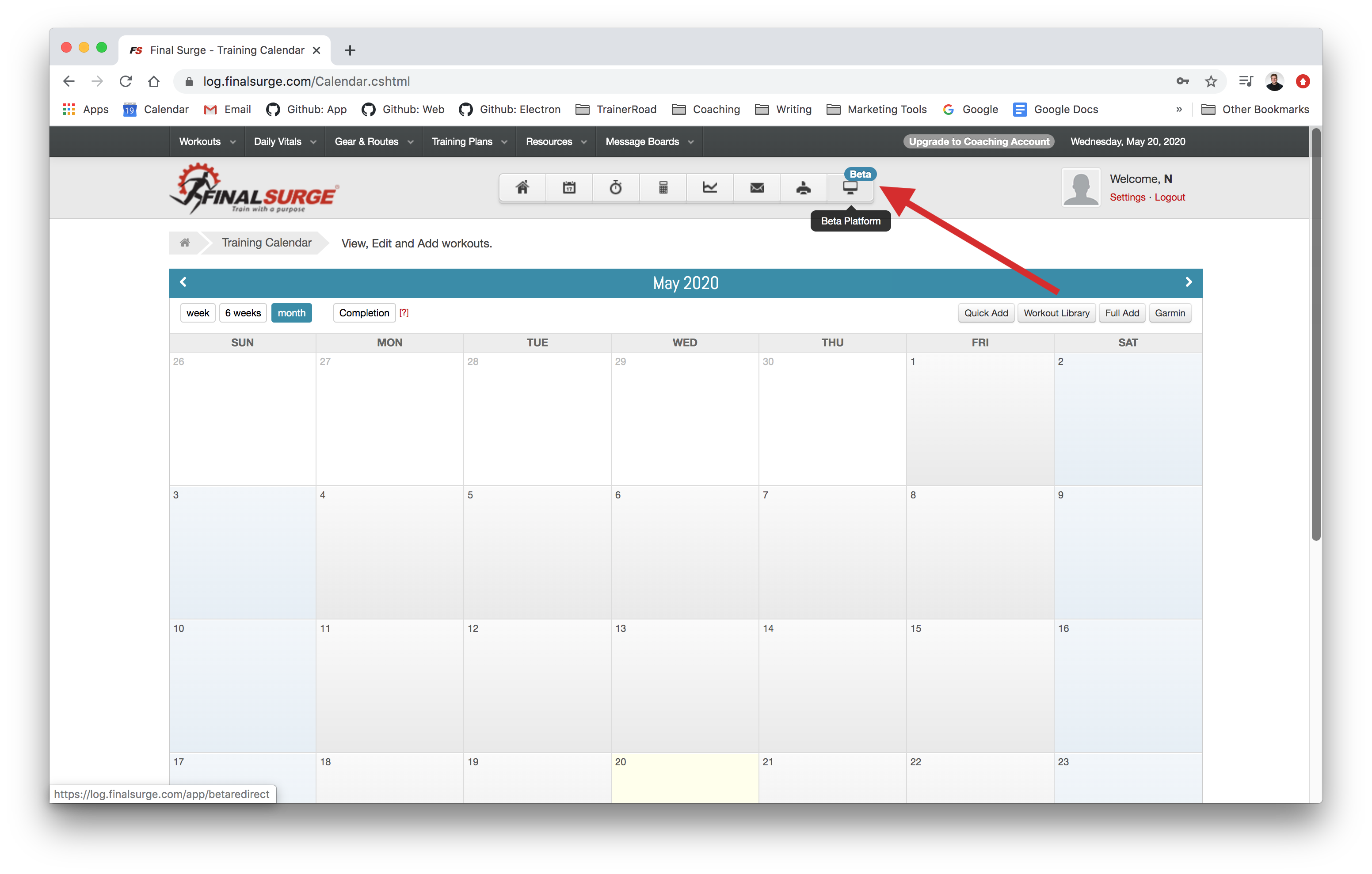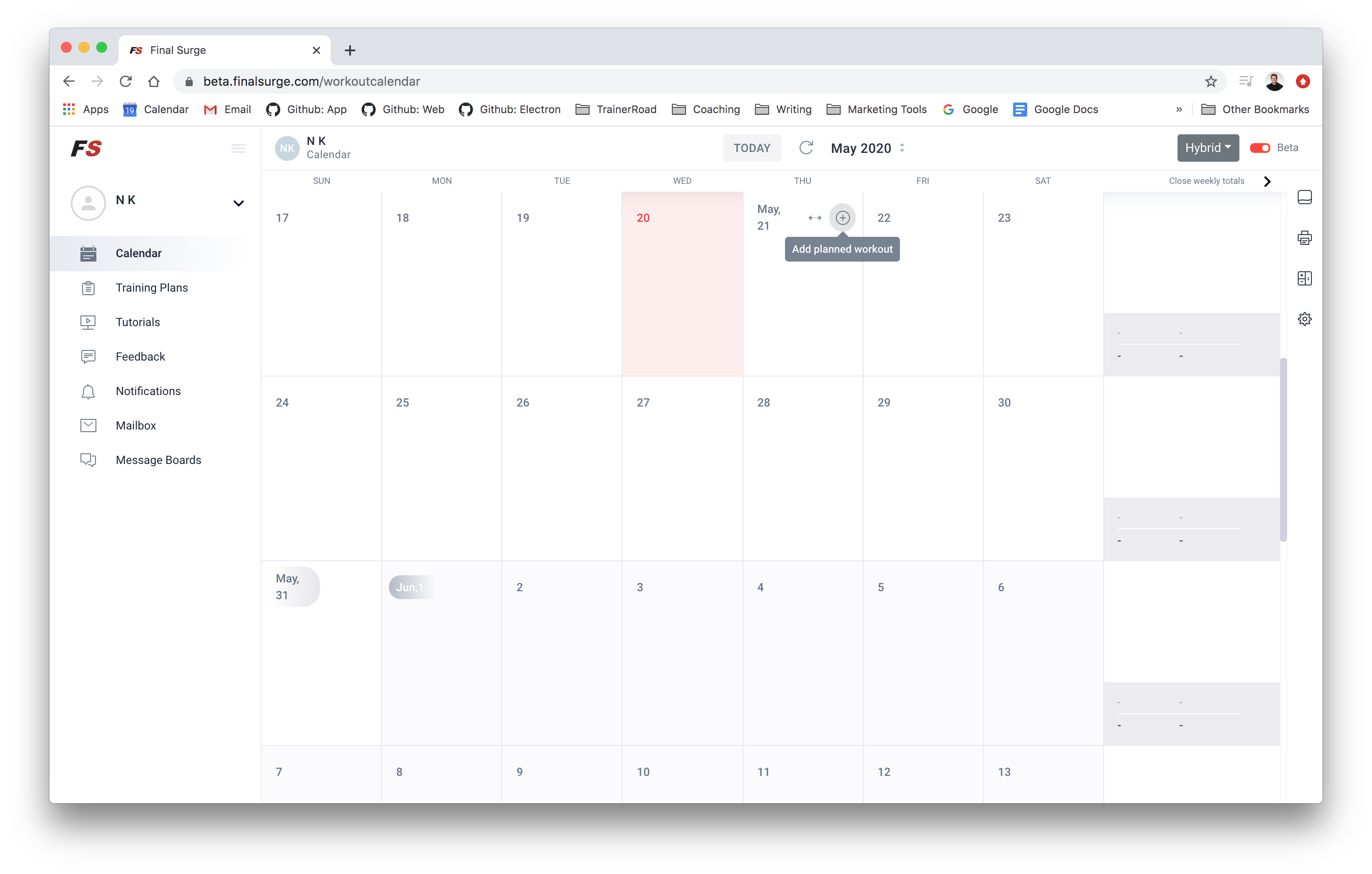 Step 2.
Select a present or future day on the calendar to add a planned workout.
Select the activity type as "Bike" and confirm the workout is marked as "Planned".
Note: We will not import non-bike workouts at this time.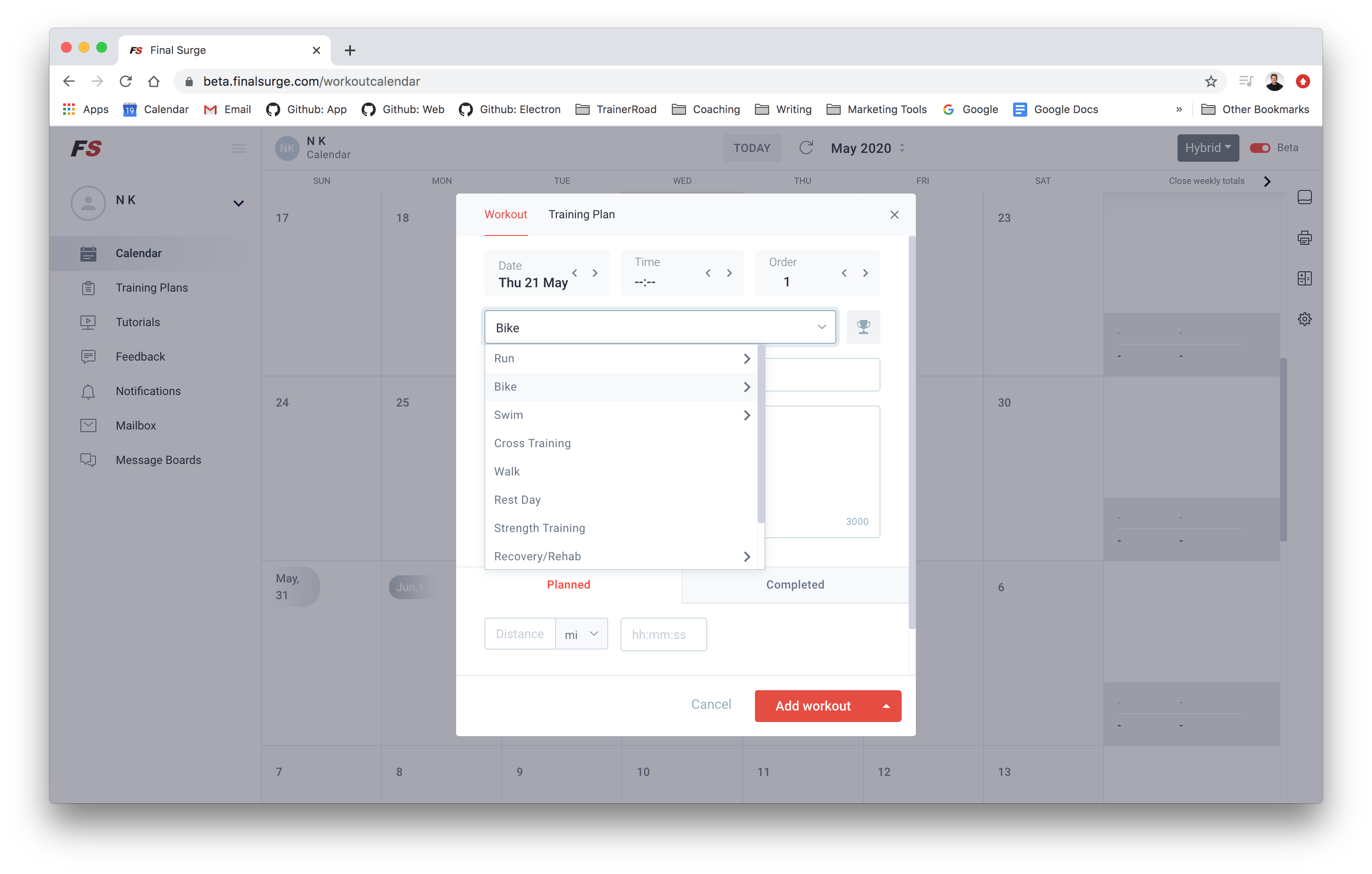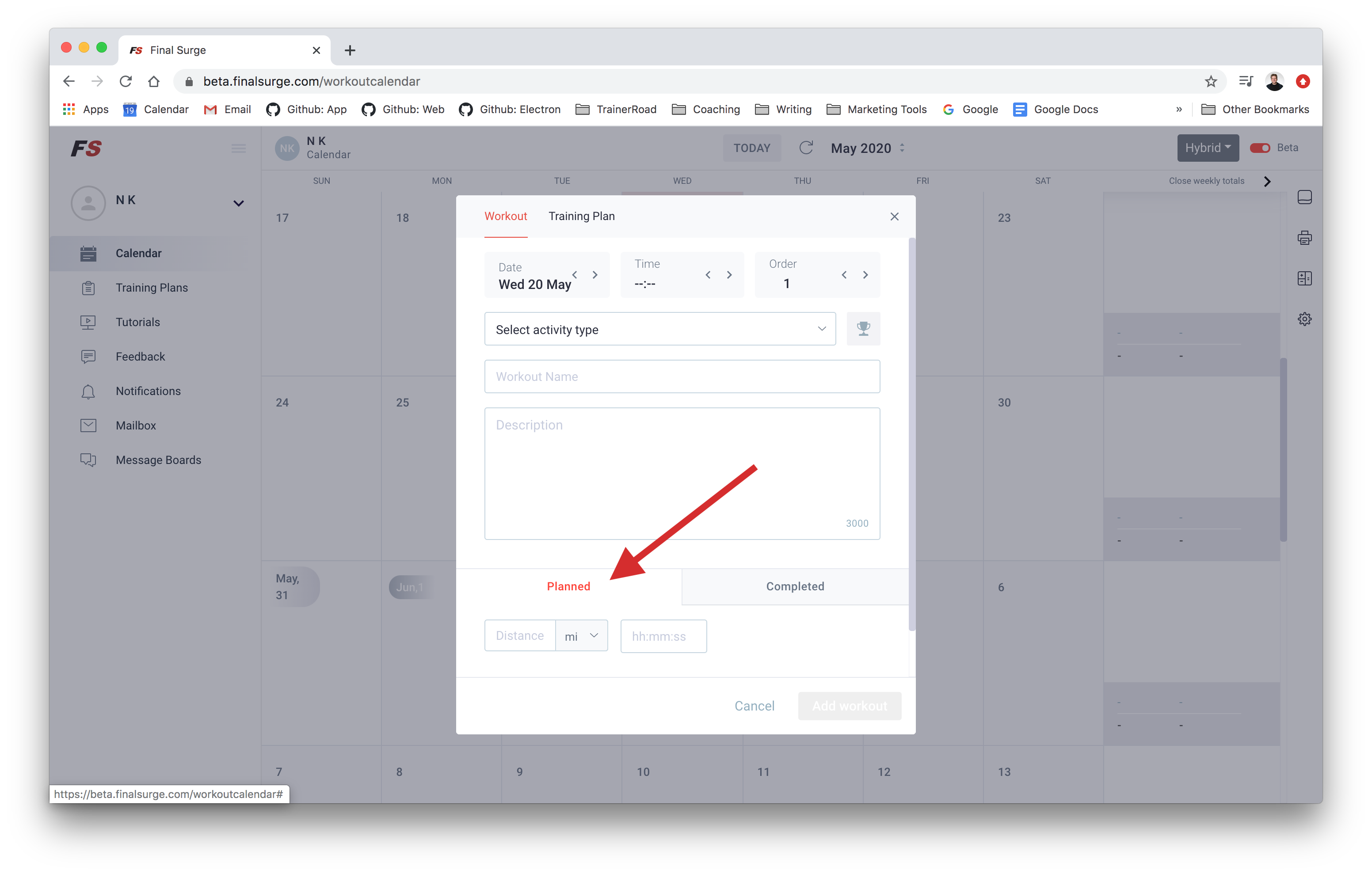 Step 3.
Select the carrot next to "Add Workout", and select "Add and open Workout Builder".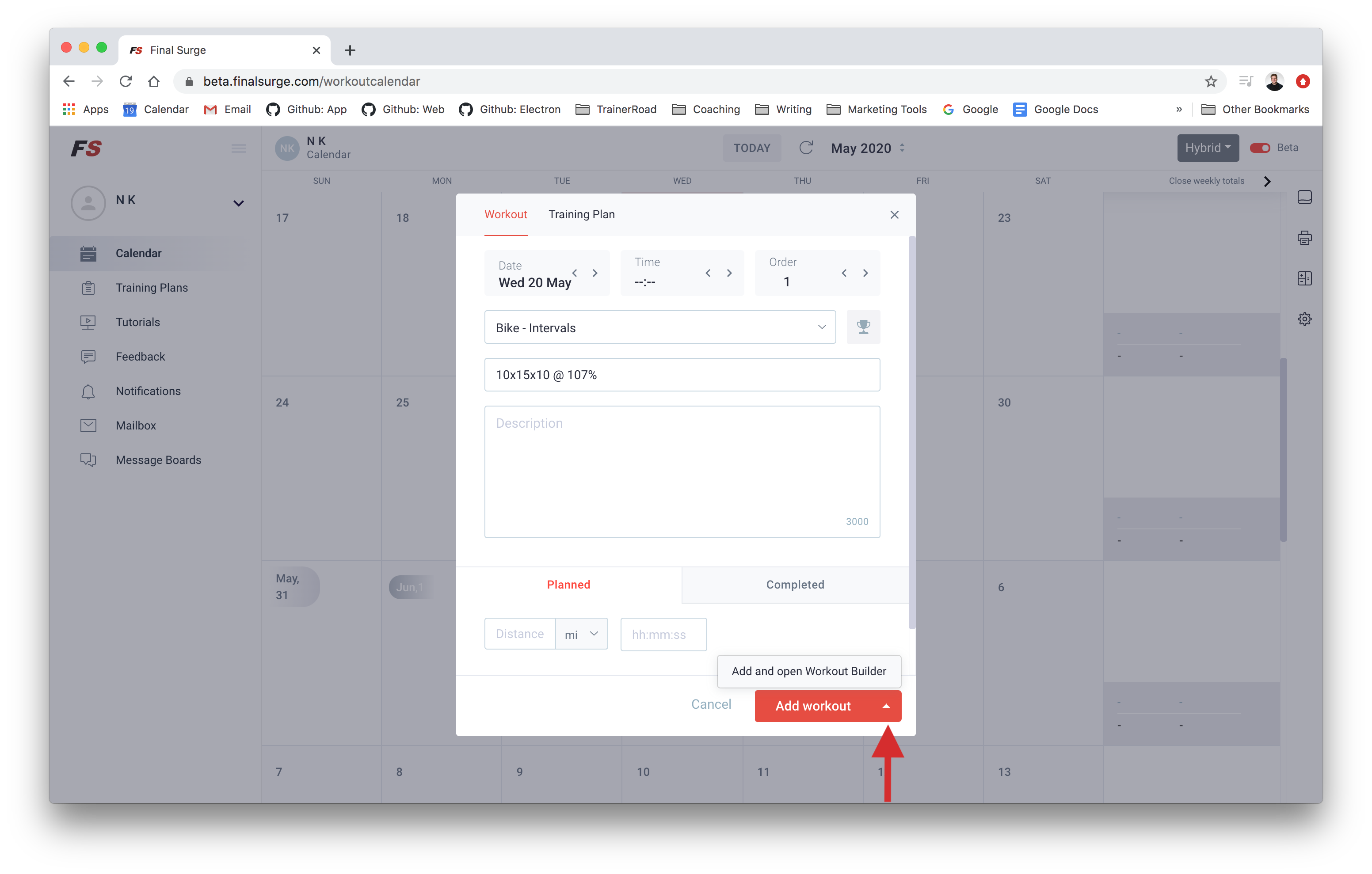 Step 4.
Select "Power" as your workout target. We won't accept workouts based on Heart Rate or Speed.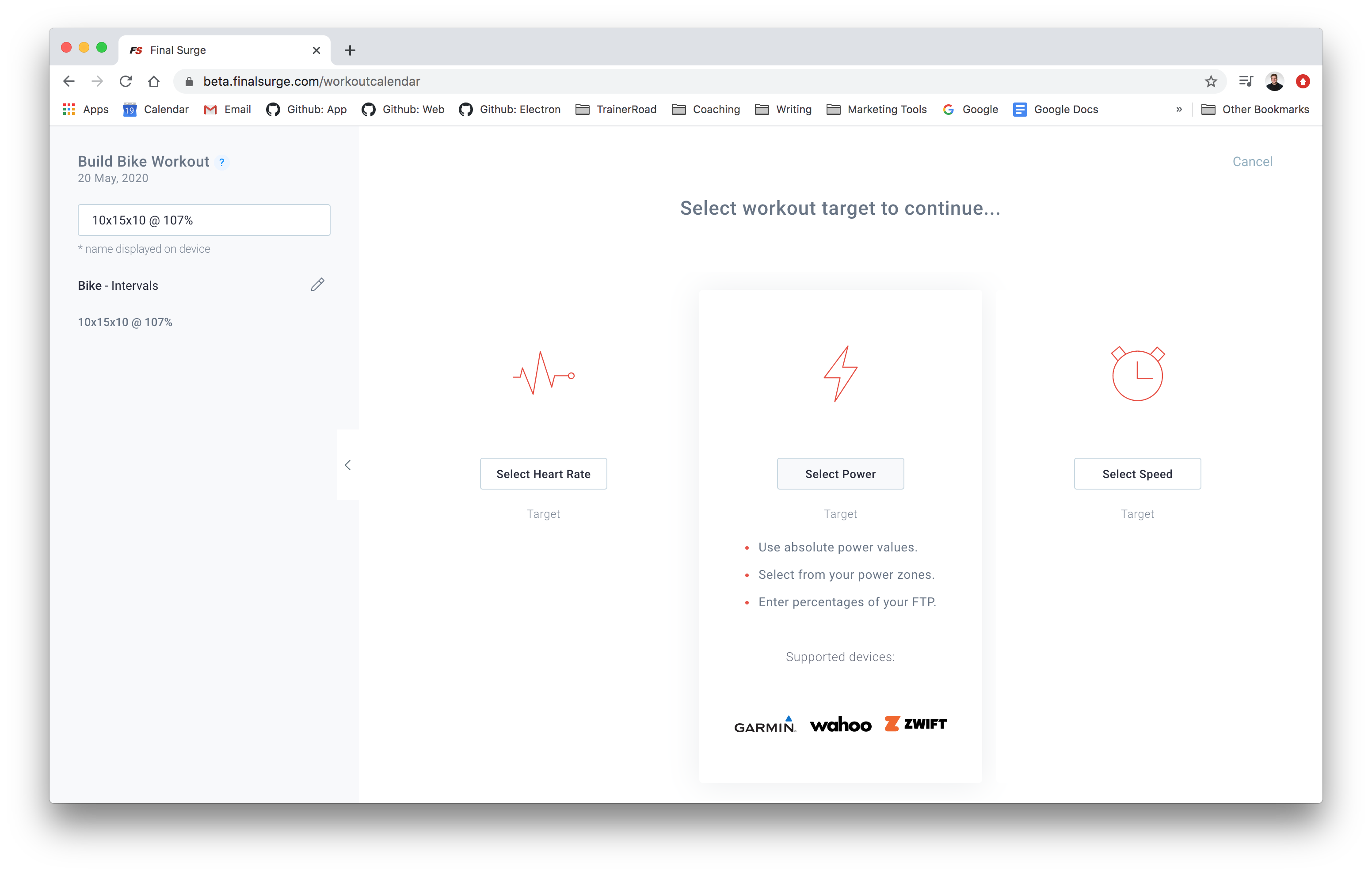 Step 5.
Select "Add Step" to begin adding new, Time-based intervals to your workout. Use the drop down menu to designate whether the interval is a Warm Up, Bike, Rest, or Cool Down.
Note: Using any selection other than "Time" for each interval prevents the workout from importing into TrainerRoad.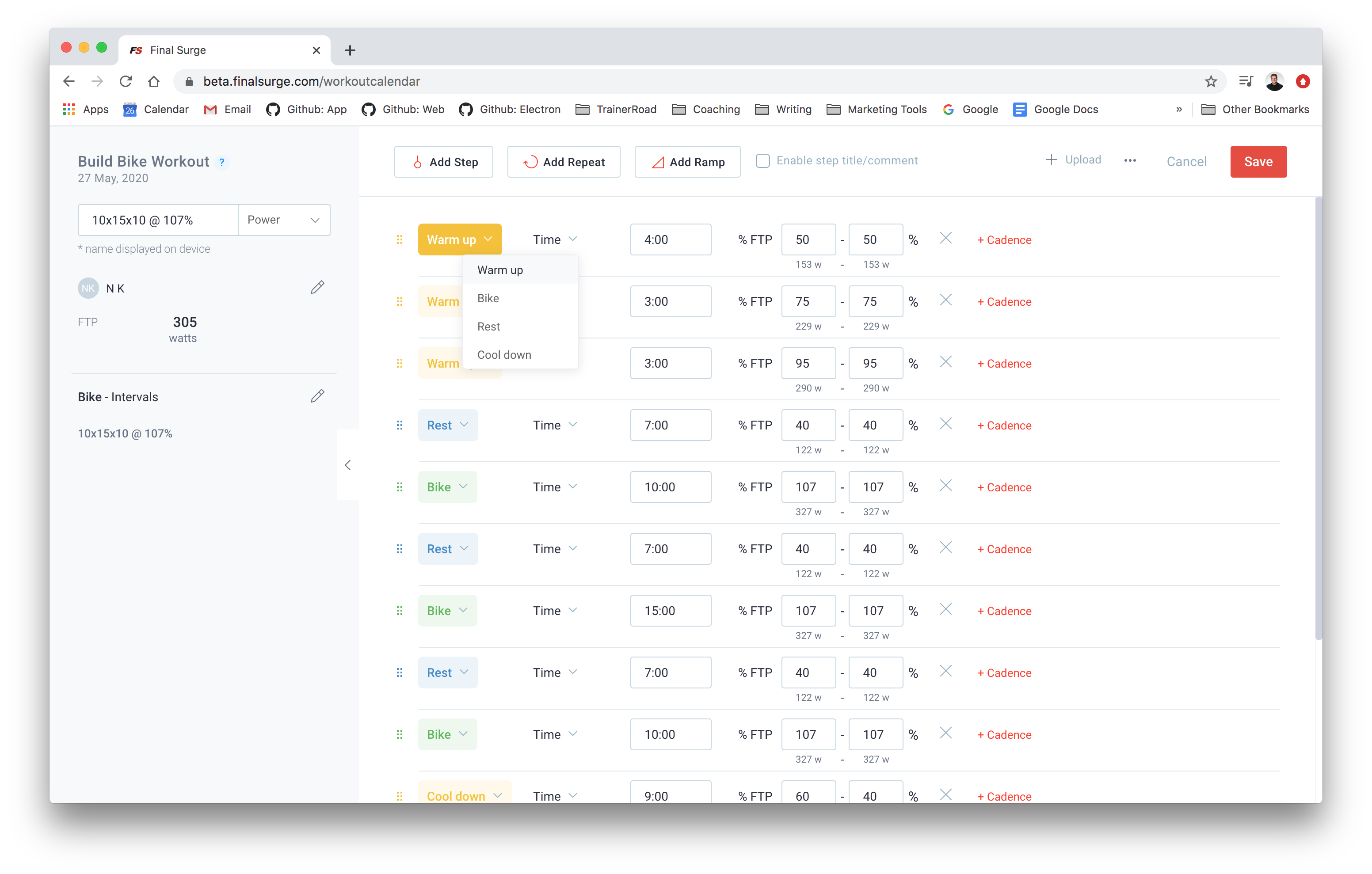 Workouts must be built using %FTP as the workout power target. When adding the power target for an interval, select the "+ %FTP" button to set the range.
Note: Set your %FTP range as the same number. If you set a range, the power target is set as the midpoint.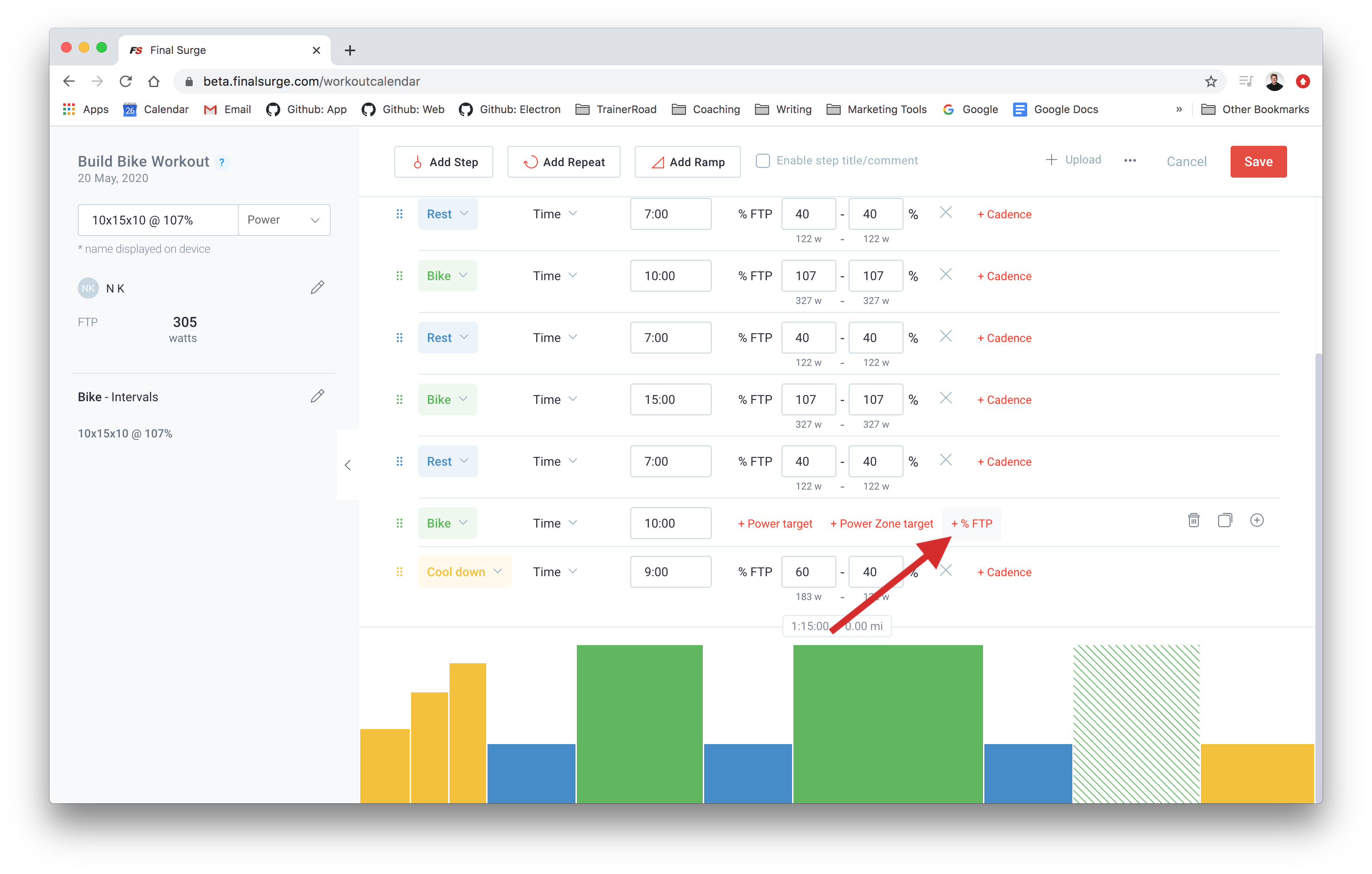 Delete, copy, and add intervals by hovering over the icons on the right of each interval row.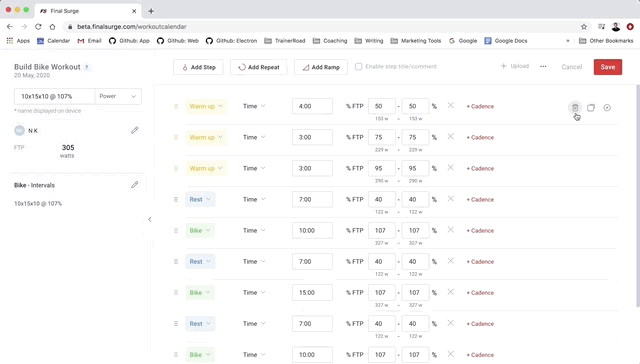 Step 6.
Select "Save" to save your newly built workout to your calendar. After doing that, you should verify that the workout will import to TrainerRoad correctly.
To verify that the finished custom workout is built correctly, select the workout on your Final Surge Calendar there should be an option to download a .mrc file. We don't actually need to download the .mrc file - just know that if you see the option to download the workout as a .mrc that means you've formatted it correctly to sync over to TrainerRoad.
If you don't see the option to download the workout as a .mrc, you'll need to return to step 5 to edit the workout and ensure that you've set the right type of Targets (Power), with the intervals set to %FTP ranges.
The %FTP Range within each interval must also be the same number since TrainerRoad doesn't allow for variance in power targets. For example, you can't have a %FTP range of 80-85% - you'd have to set it to 80-80%.
Custom Final Surge workouts will automatically sync once a day to TrainerRoad. If you need to sync the workout right away, manually trigger the sync by selecting "Pull Workouts" from the following page: Ride Sync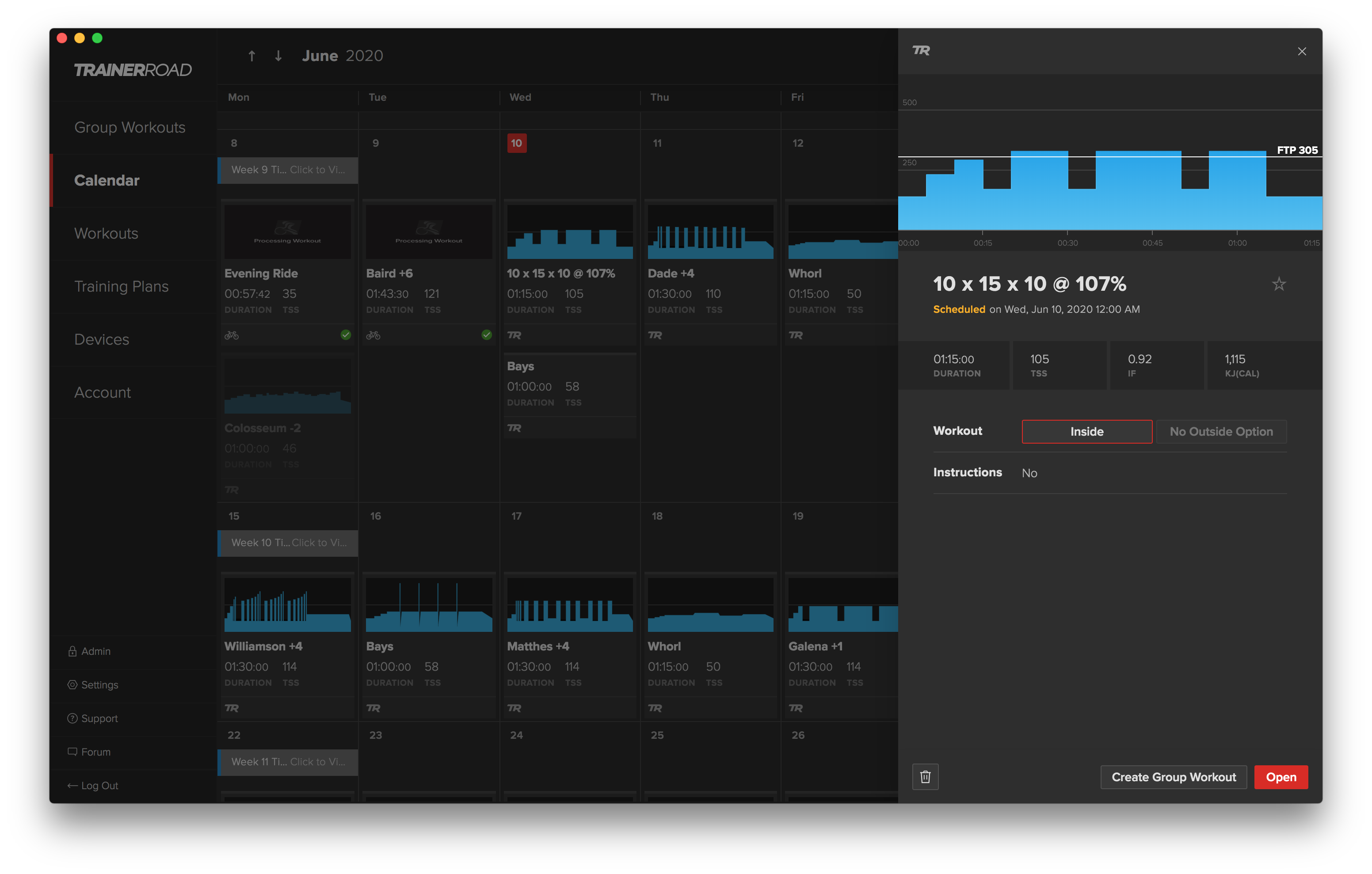 Note: "FS" icons are shown on the Calendar page of the website to differentiate custom Final Surge workouts.