We offer a 30-day money-back guarantee.
If you get sick, injured, or just plain don't like us, we will give you your money back.
This is for new accounts only and does not apply to athletes re-subscribing after suspending their account. This guarantee DOES apply to all NEW athletes for the first 30 days after they sign up with a credit card or PayPal.
How to get a refund
Once logged in, click "Account" on the left sided column.
Click on "Account Information".
If eligible, "Refund Payment" will appear under "Account Options". From there you will follow short prompts to complete your refund.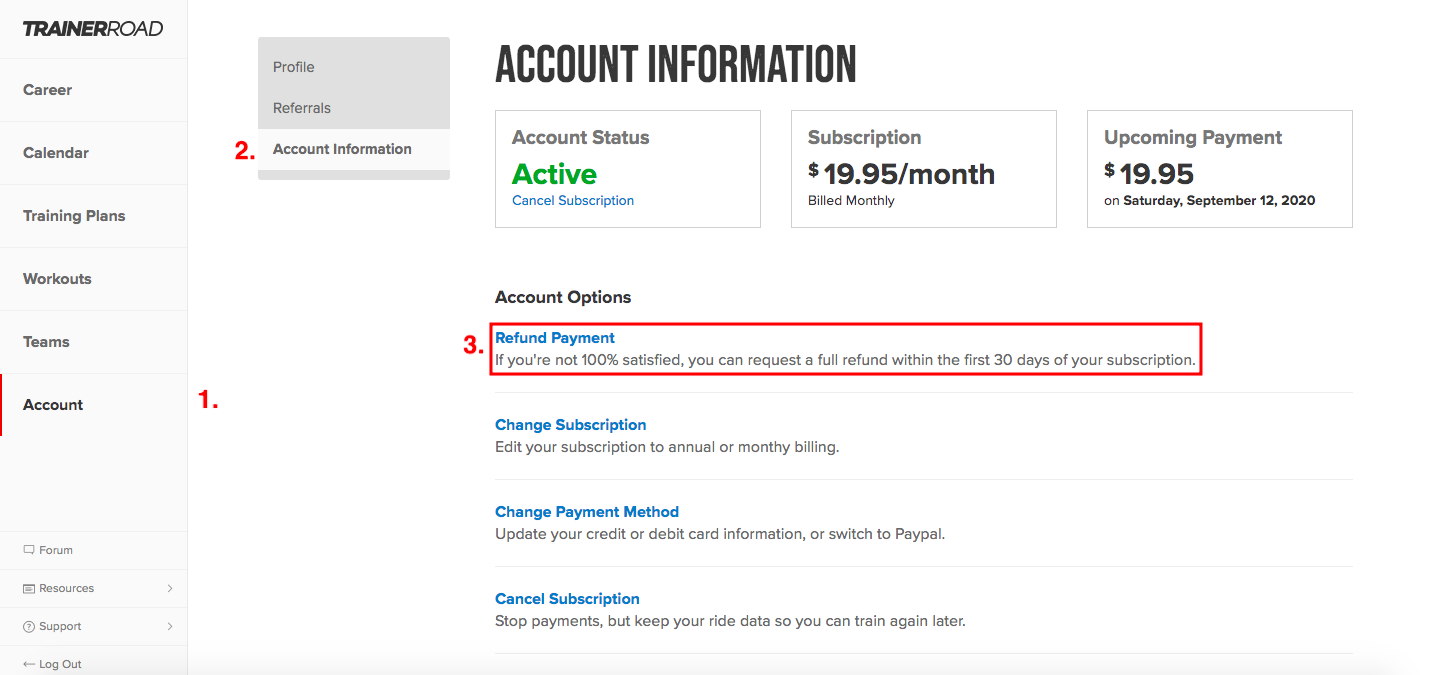 How to get a refund via the desktop application
From the "Account" tab within the desktop application, you can select your subscription towards the bottom of the page and then select "Refund Payment" on the right-hand side (if eligible). This will then open a web browser page to the "Account Information" page as described above.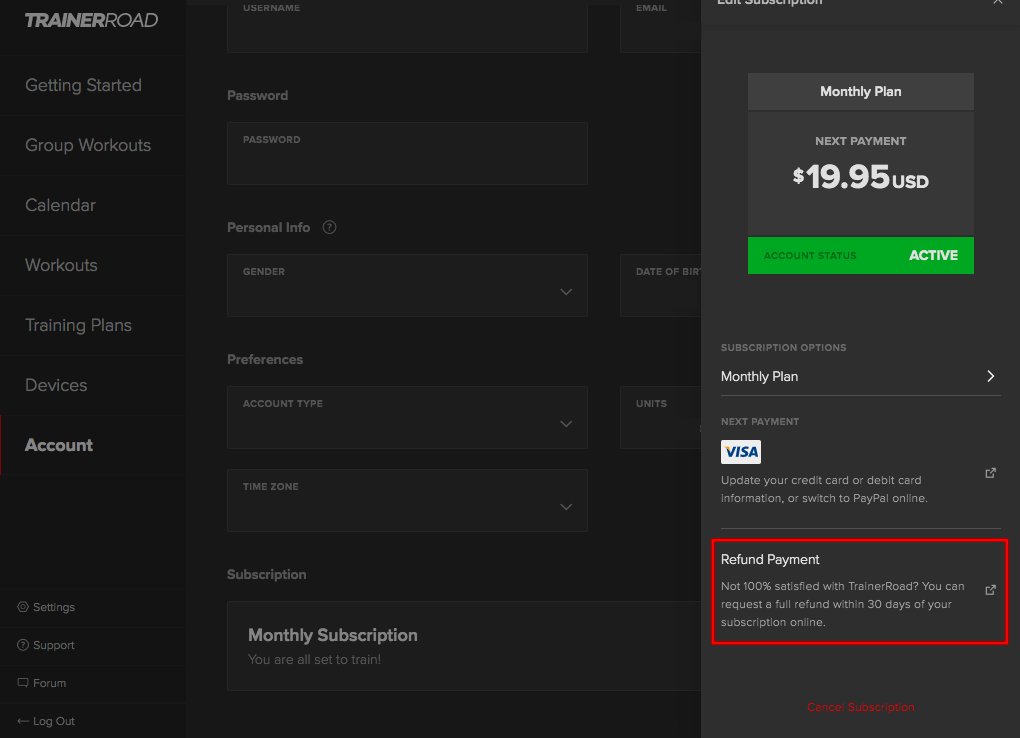 How to Request a Refund if you Signed Up using Apple's In-App Payment System
If you've signed up via Apple's In-App Payment system and aren't satisfied within your first 30 days, you'll need to contact Apple to request a refund. This article has more information on how to do so.
Click here for more information on how to cancel your account via Apple.
Refund and Cancellation FAQ's
Can I "pause" my TrainerRoad Monthly/Yearly account to use later?
There is no way to "pause" a yearly or monthly account and keep any unused time for later.
You can either cancel your subscription or delete your account, but neither option will let you keep any unused time. For more information on the difference between canceling your subscription and deleting your account, see the question below.
What is the difference between canceling my account and deleting my account?
When you cancel your account, your workout history will be saved. So, when you return to TrainerRoad in the future, all of your training data will be present. Of course, you will not be charged for TrainerRoad during the time your account is canceled.
>When you delete your account, your TrainerRoad membership will close immediately, and your past rides, training plan progress, and personal career will be completely scrubbed.
Note:Your account cannot be recovered once it has been deleted.
You are able to find additional details regarding canceling your account here.
How do I cancel my account?
You can cancel your account any time by logging in and clicking on the "Account" tab in the left-hand navigation. Click "Account Information", and you will see an option to cancel your account.
Once you cancel or delete your account, future payments to TrainerRoad will stop. We do not offer partial month refunds. For example, if you are billed the first of every month and cancel on the 15th you will not receive a partial month refund.
How do refunds work with yearly plans?
You will have 30 days to refund yearly plans. There are no prorated refunds. For example, you can not get a refund mid-way through your payment year.