You can now have scheduled TrainerRoad Outside Workouts pushed to your Apple Watch!
Like our Outside Workouts for Garmin and Wahoo head units, this new feature will allow you to complete your scheduled TrainerRoad Outside Workout, using your Apple Watch device.
Once pushed to your Apple Watch, your workout will guide you through the intervals of your session, showing you the specific power targets and interval times that Adaptive Training has prescribed.
All you have to do is pedal!
Authorize Apple to Pull From TrainerRoad
To enable TrainerRoad Outside Workouts for your Apple Watch device, you will need to connect your TrainerRoad account to both your Apple Watch and Apple Health app.
This can be done most easily from the start-up screen of your TrainerRoad app. After updating to iOS 17 and to the latest TrainerRoad app version, you'll receive a notification to get set up.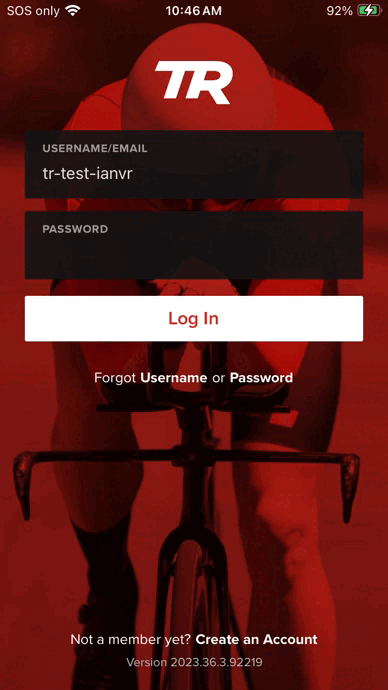 Just hit Set Up to get the process started.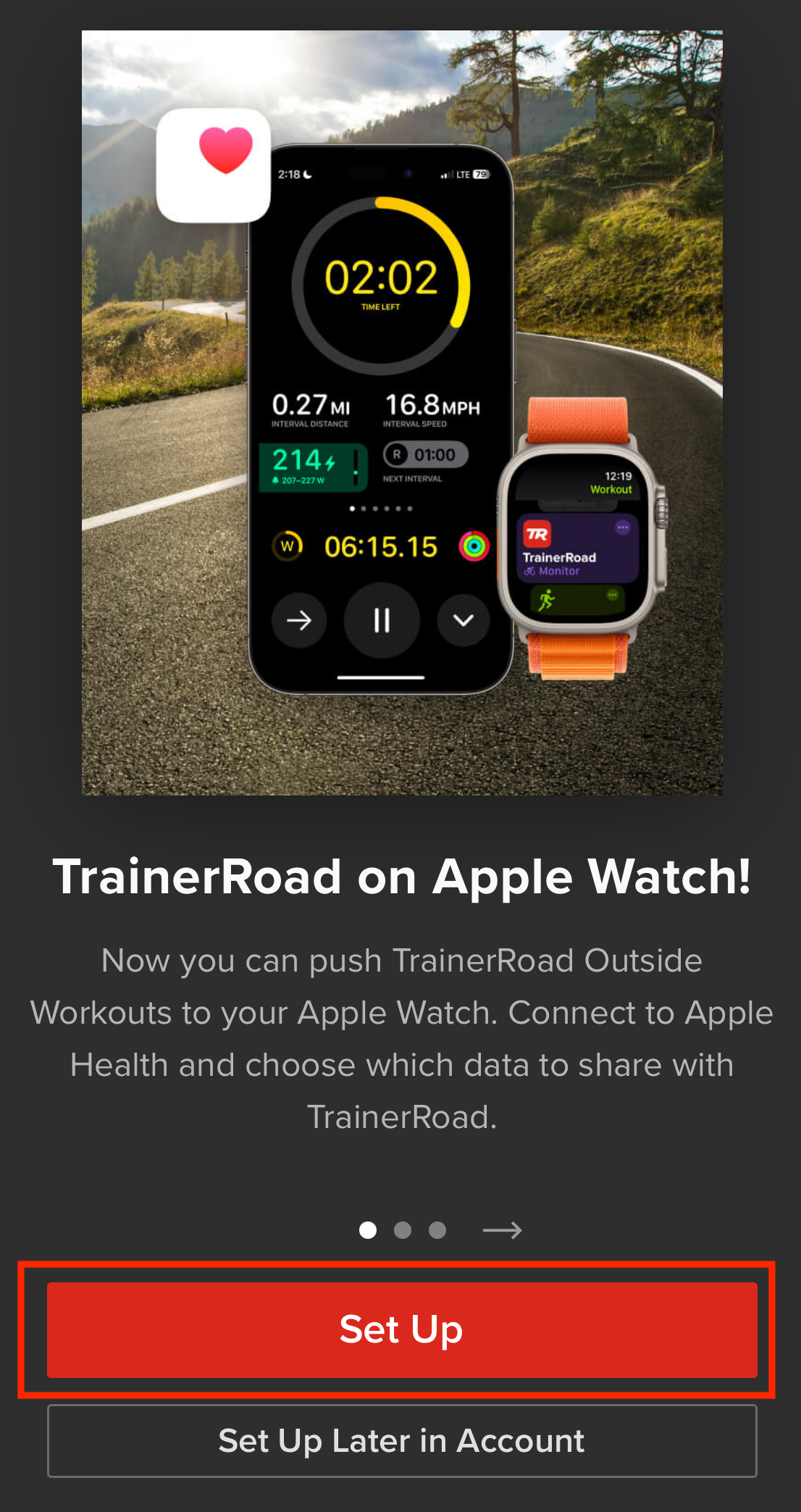 From here, you will want to select Tap to Set Up listed under both "Push to Apple Watch" and "Sync with Health".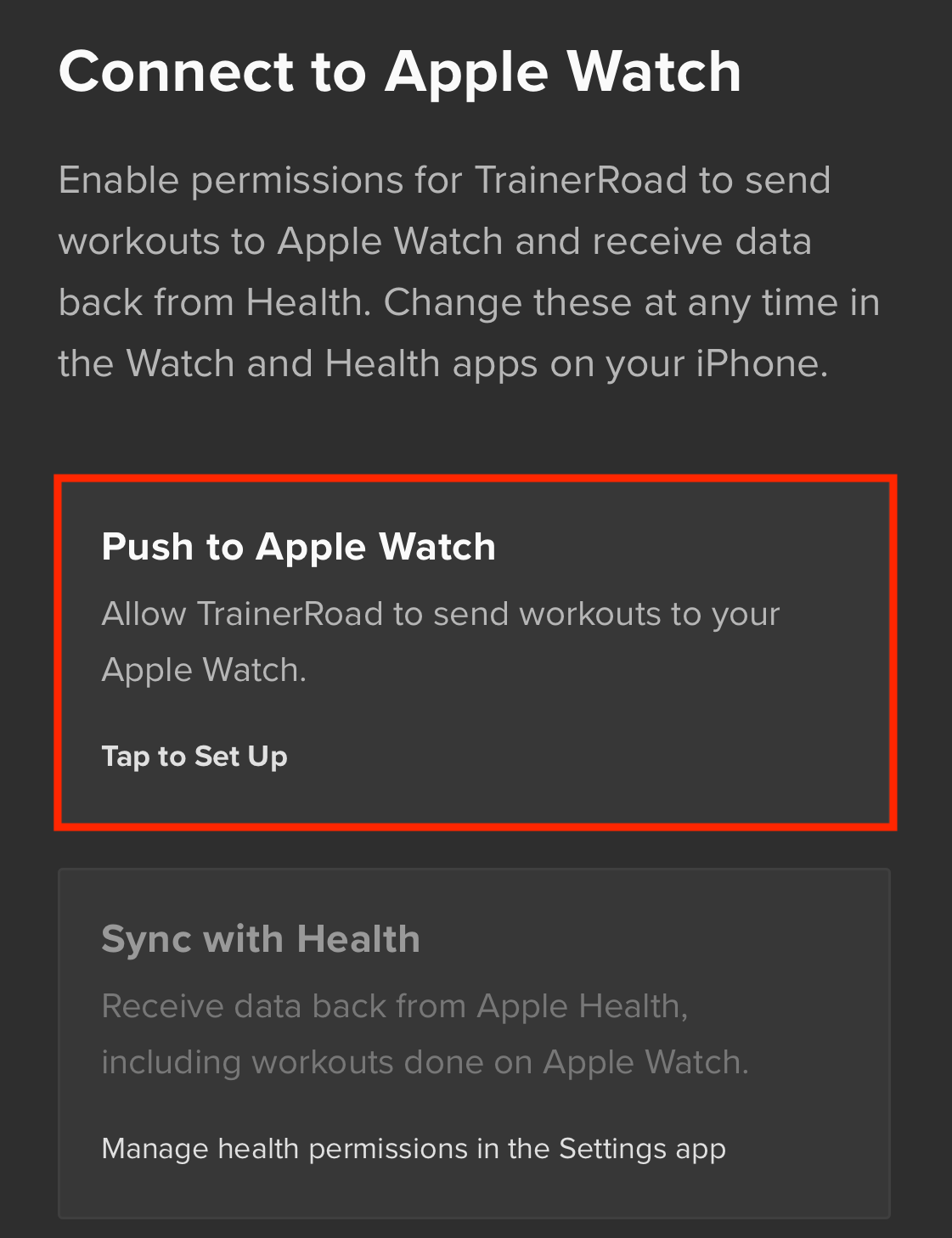 Click the following link if you weren't presented with the notification to set up sync with Apple Watch or are encountering issues: Apple Health Troubleshooting
Syncing A Completed Cycling Workout Back to TrainerRoad
As long as you have Apple Health connected to your TrainerRoad account, your completed Outside TrainerRoad workout will sync back into your Career automatically.
At this time, though, unstructured outside rides will not push from Apple Health back into TrainerRoad.
For more details on linking your TrainerRoad and Apple Health accounts, check out the following article: Connecting TrainerRoad with Apple Health
Scheduling a Workout
You can schedule an Outside Workout to be completed on your Apple Watch using any TrainerRoad platform. This includes our desktop apps (Mac and Windows), our mobile iOS app, and through our website.
It should be noted though, that an Apple Watch icon will only display for pushed TR Outside Workouts in TrainerRoad's iOS apps.
TrainerRoad Outside Workouts that are part of your plan or scheduled within 7 days will automatically be pushed to your Apple Watch.
You will just want to be sure to open your iOS app on the day of your workout.
You can also push a TrainNow workout or a session from TrainerRoad's workout library manually using the process below:
Select the workout that you would like to complete, either from TrainNow or a specific workout from our workout library.
Next, make sure that the session is marked as an Outside Workout. Inside Workouts cannot be pushed to Apple Watch devices
Once the workout has been added to your Calendar, it will automatically push to your Apple Watch, just like a planned workout.
TrainerRoad Outside Workouts that you don't have planned can also be pushed to the Apple Watch "moment of" via the Push to Apple Watch button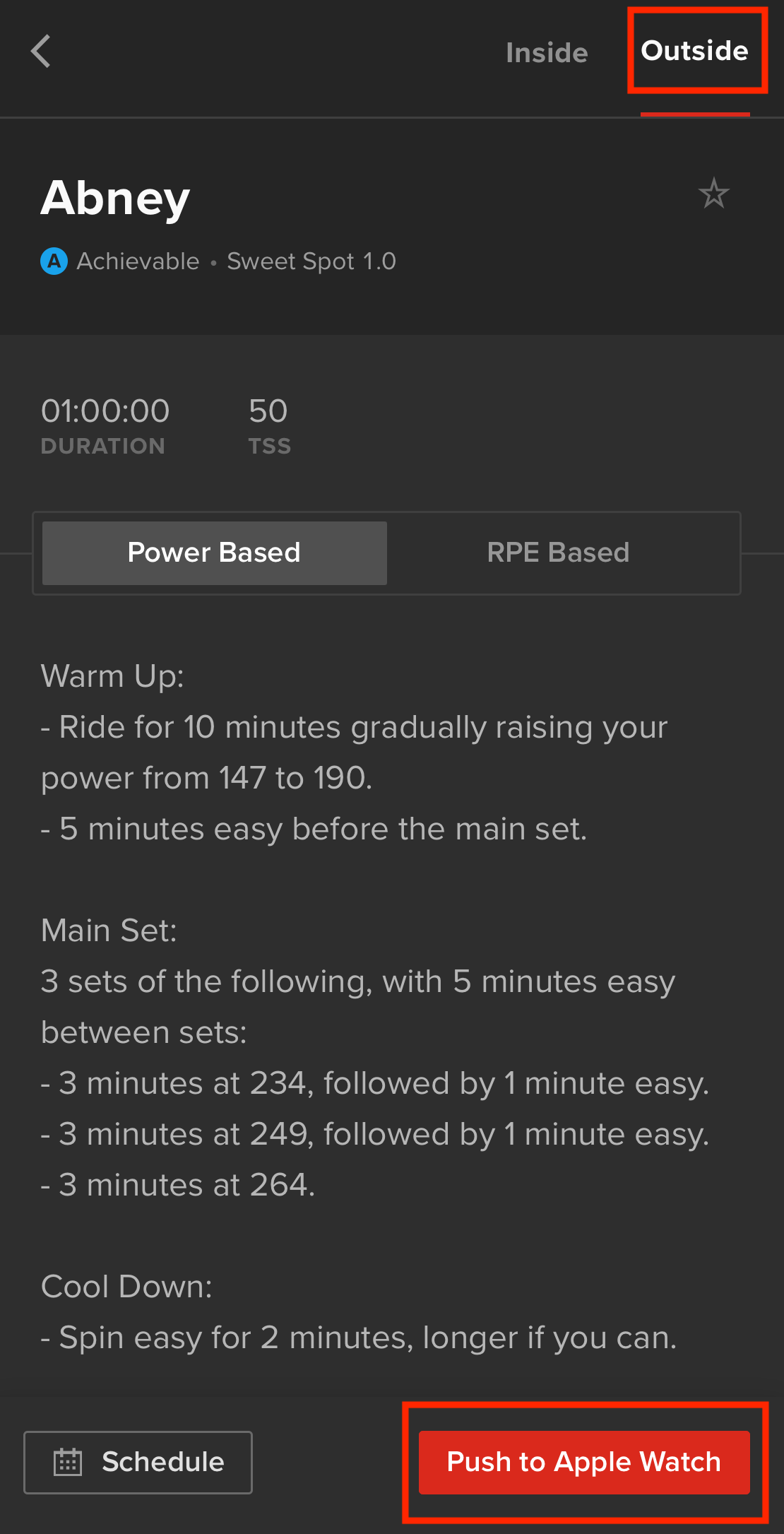 Workouts that have been successfully pushed to your Apple Watch will display a small watch icon in iOS TR apps, indicating a successful sync.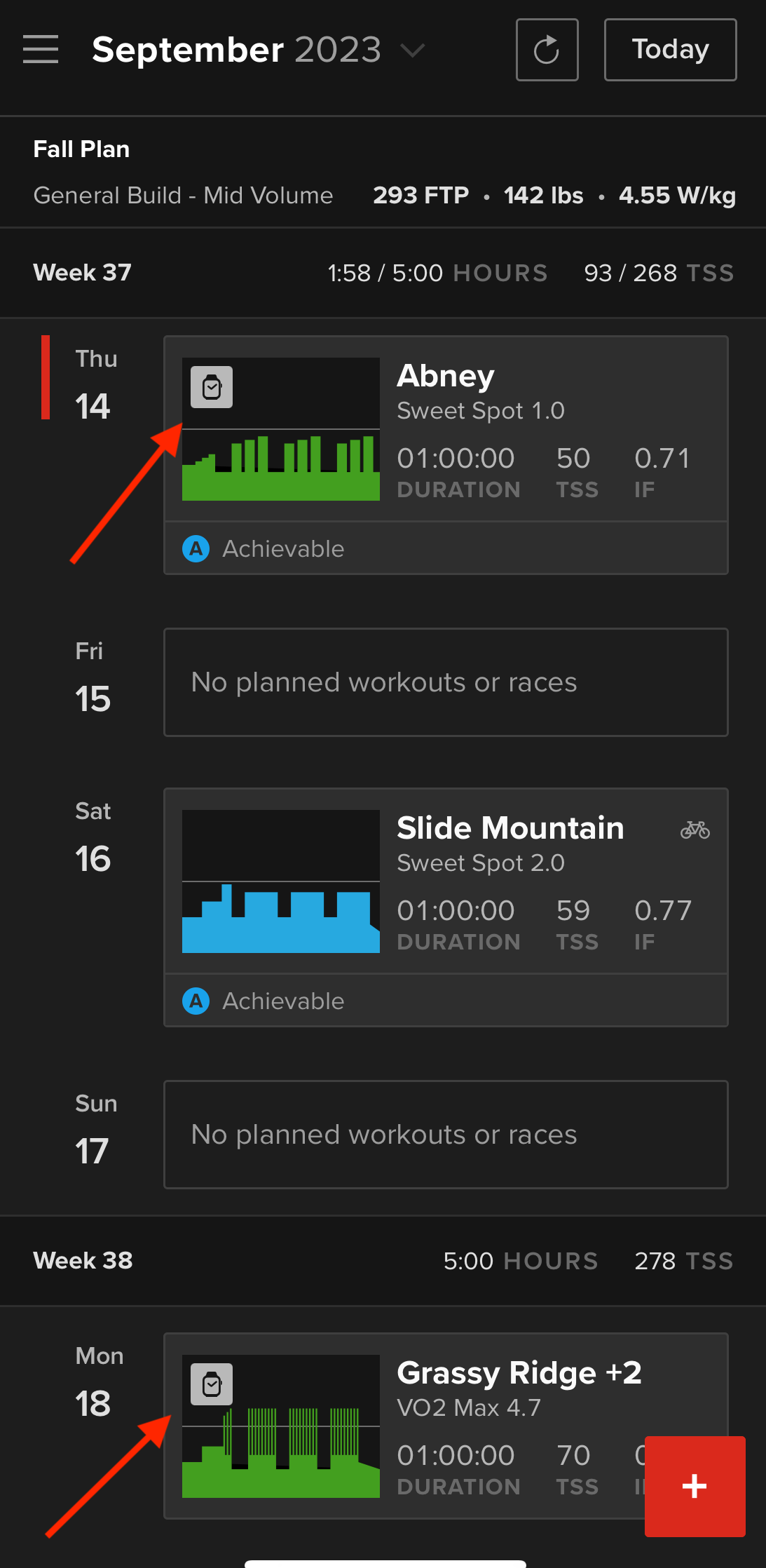 In order to have your workout actually push from TrainerRoad to your Apple Watch, you will need to open your TrainerRoad app on an iOS device, either your iPhone or iPad.
Workouts will not sync in the background as they do for Wahoo and Garmin head units.
Starting a Workout
To start a TrainerRoad Outside Workout on your Apple Watch you will first want to connect your training devices (power meter, heart rate monitor, etc) via Bluetooth.
This needs to be done within the Settings App of your Apple Watch. Just click on Bluetooth and connect any of the devices that you wish to train with during your workout.
Once you have connected your training devices, go ahead and open the Fitness App on your Apple Watch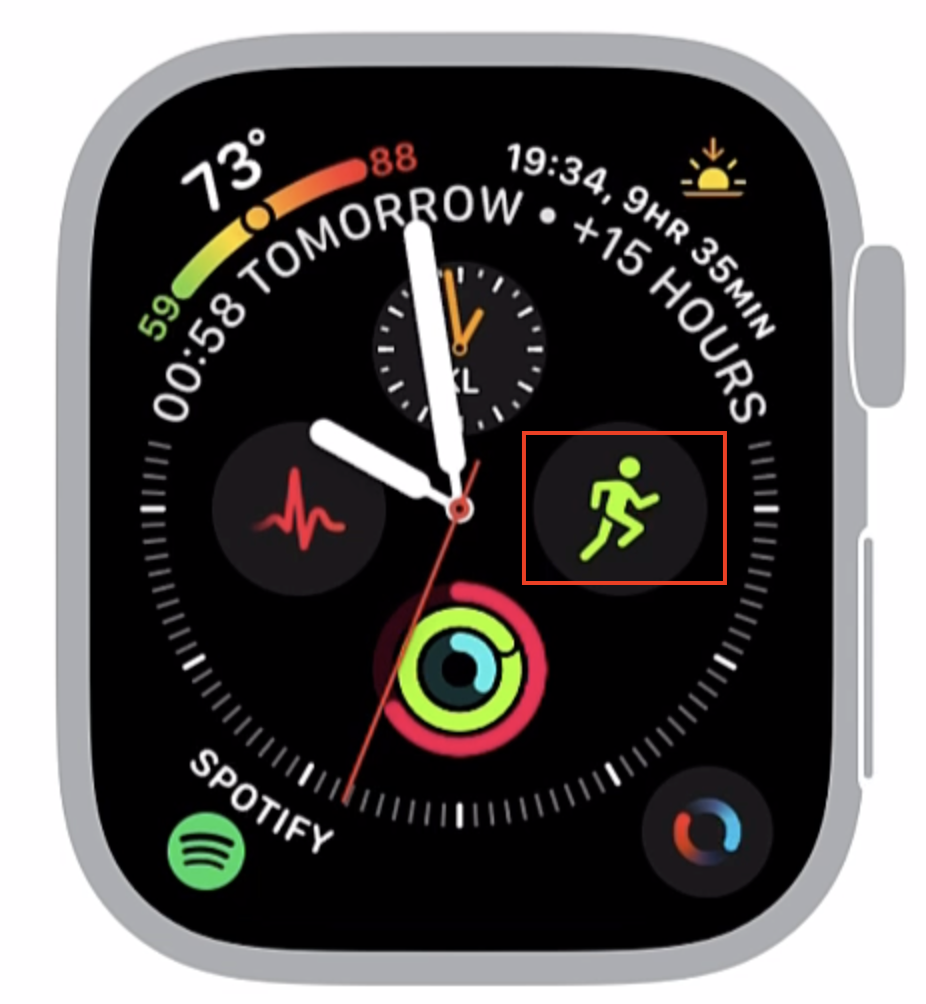 Then click on your scheduled TrainerRoad Outside Workout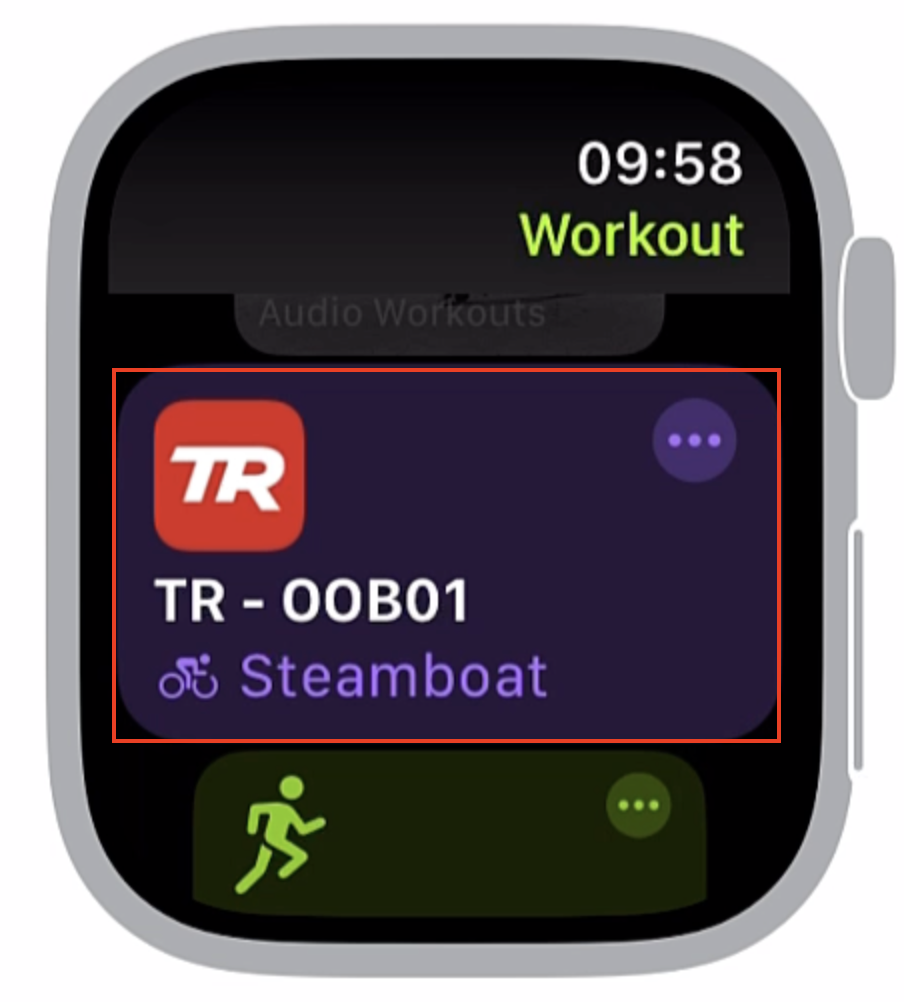 You will then be presented with the workout details for your upcoming session. Once you are ready to start pedaling, go ahead and click Start Workout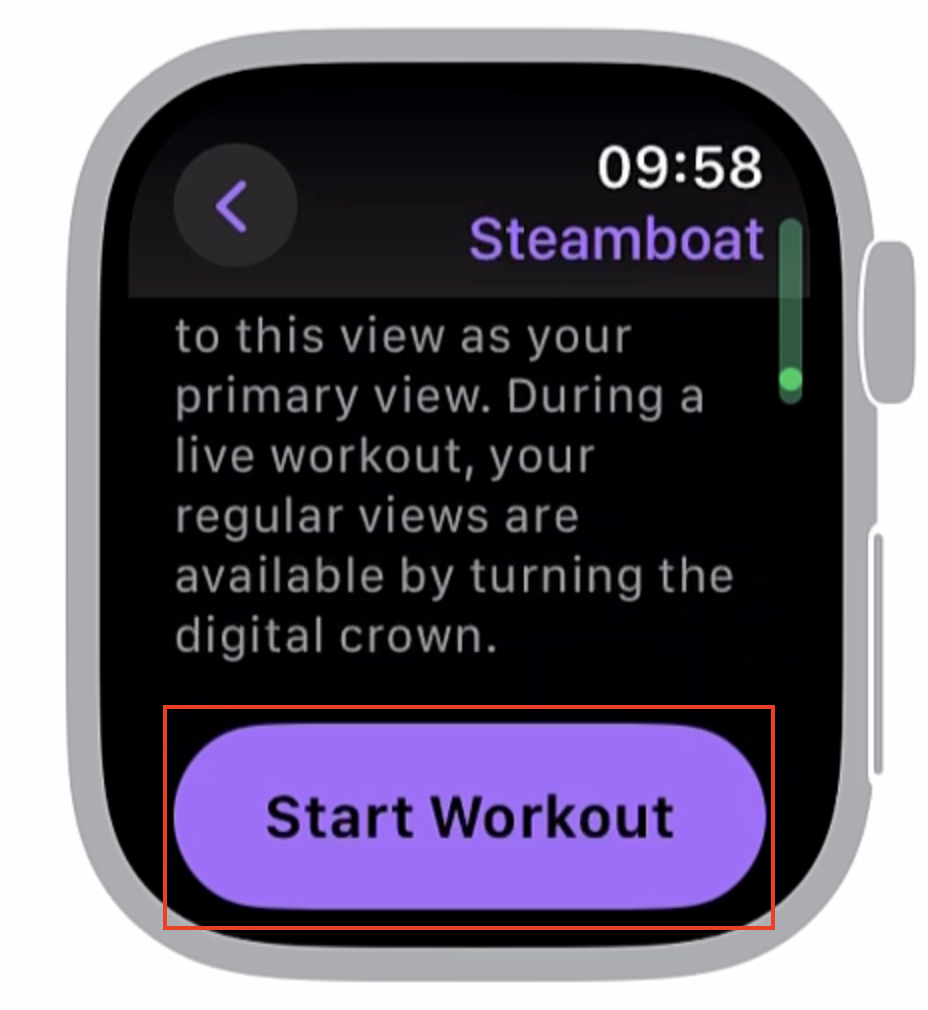 Your Apple Watch will then display the target metrics for each portion of your workout, guiding you through your session just like your Indoor TrainerRoad Workouts.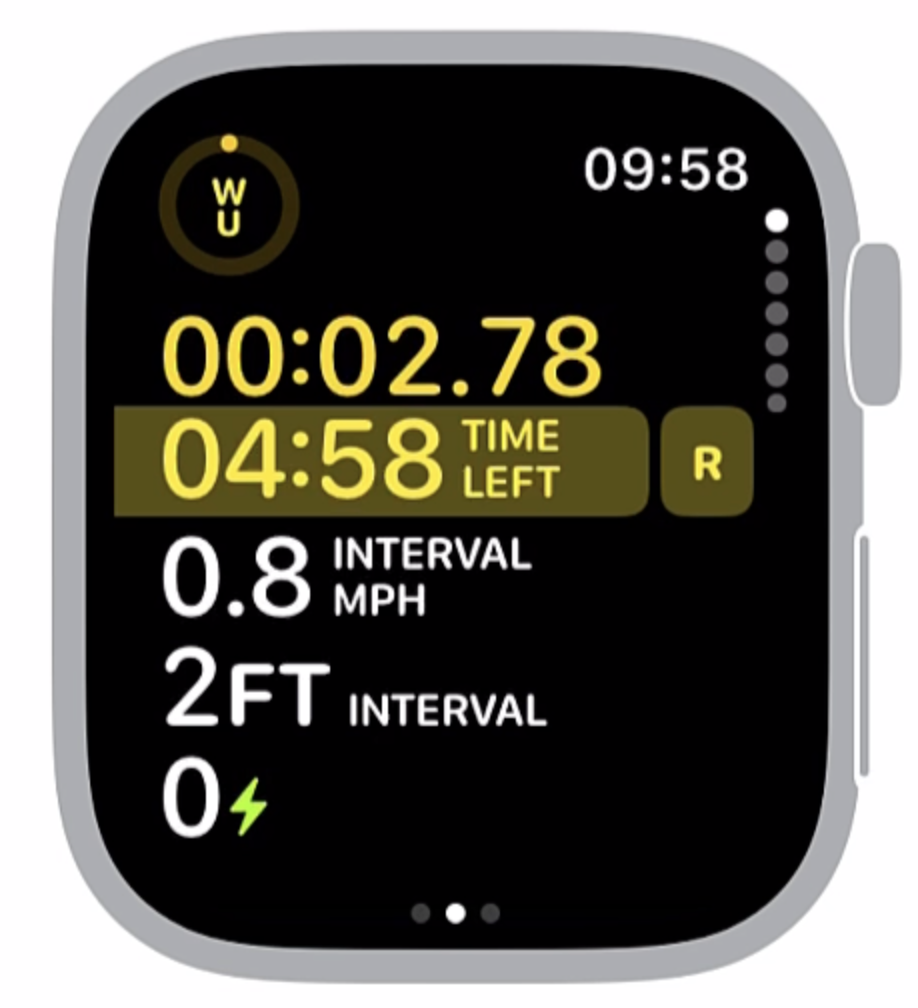 Mirroring Apple Watch to Phone
We understand that completing an Outside Workout using your Apple Watch might be challenging. Our suggestion, for both safety and efficiency, is to mirror your Apple Watch screen to a separate iOS device, which can be mounted on your handlebars for easy viewing.
Here are the steps to do so:
On your Apple Watch go ahead and navigate to your Settings, then Accessibility.
Next, tap Apple Watch Mirroring.
Toggle Apple Watch Mirroring "On".
Wait for your iOS device (iPhone or iPad) to connect.
Once connected, you will be able to see all of your workout data on your larger iOS screen, and you can now control your Apple Watch from your iPhone or iPad device.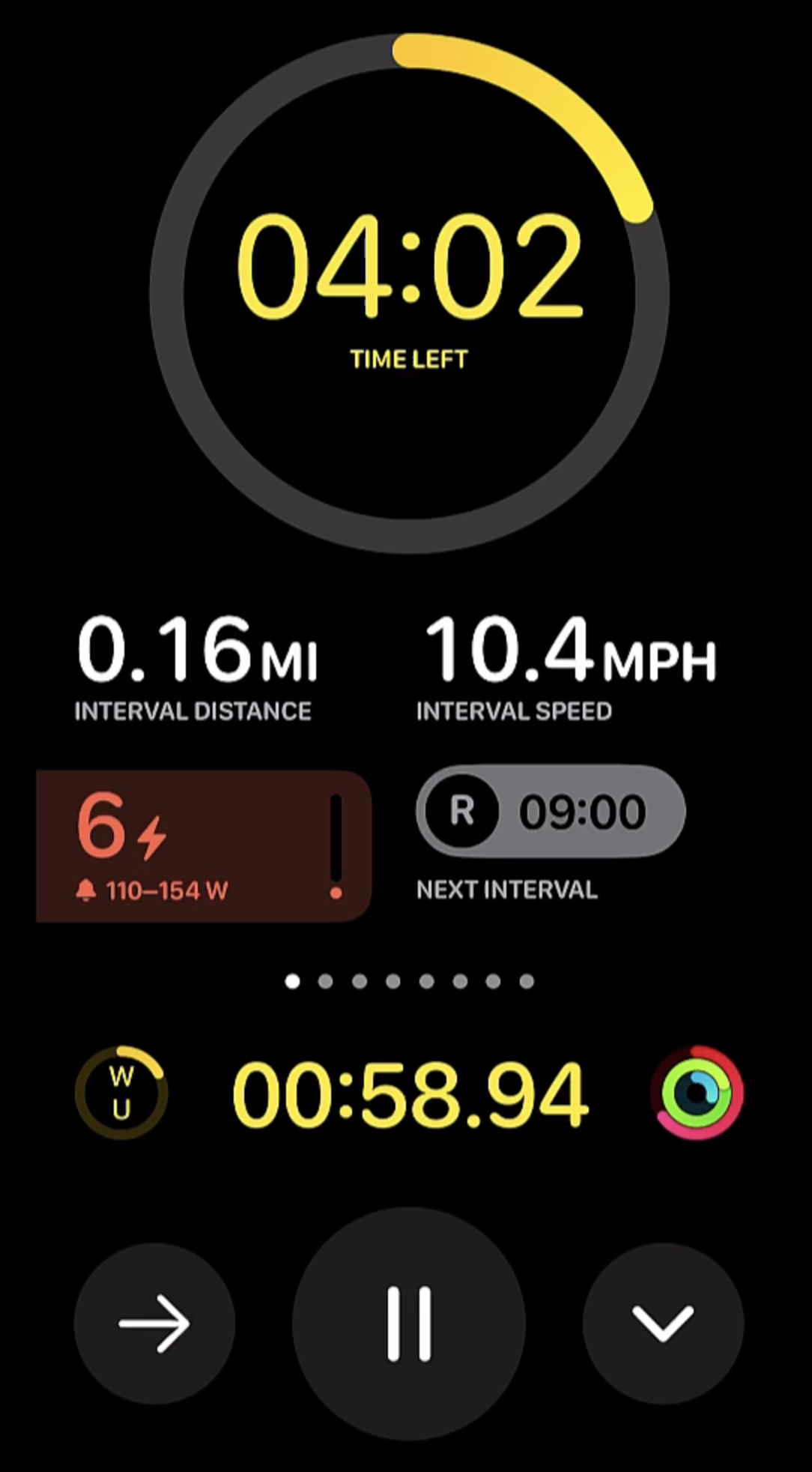 When mirroring from your Apple Watch to a separate iOS device, you may experience a slight lag in timing. Rest assured, all of your data is still being recorded as normal through the Apple Watch itself.
FAQs
What Types of Workouts will Sync to my Apple Watch?
Only scheduled Outside TrainerRoad Workouts can sync to your Apple Watch device.
Custom workouts pushed from TrainingPeaks, or made in Workout Creator as well as Indoor TrainerRoad Workouts will not.
Can you Customize Data Fields?
Yes, you can customize the data fields that are shown during your workout.
This, however, can only be done from your Apple Watch. Changes cannot be made through your iOS device (iPhone or iPad).
This can be done within your Apple Watch Workout app:
How many days in advance will my Workouts Sync?
As long as your workouts are marked as Outside Workouts in your TrainerRoad Calender, any workout scheduled within 7 days of the current day will be pushed to your Apple Watch for completion.
What Do I Do If My Workouts Aren't Syncing?
If your TrainerRoad Outside Workouts are not showing up on your Apple Watch device, the first thing to check is that you have your TrainerRoad account connected to Apple Health, and have granted all of the following Apple Health permissions.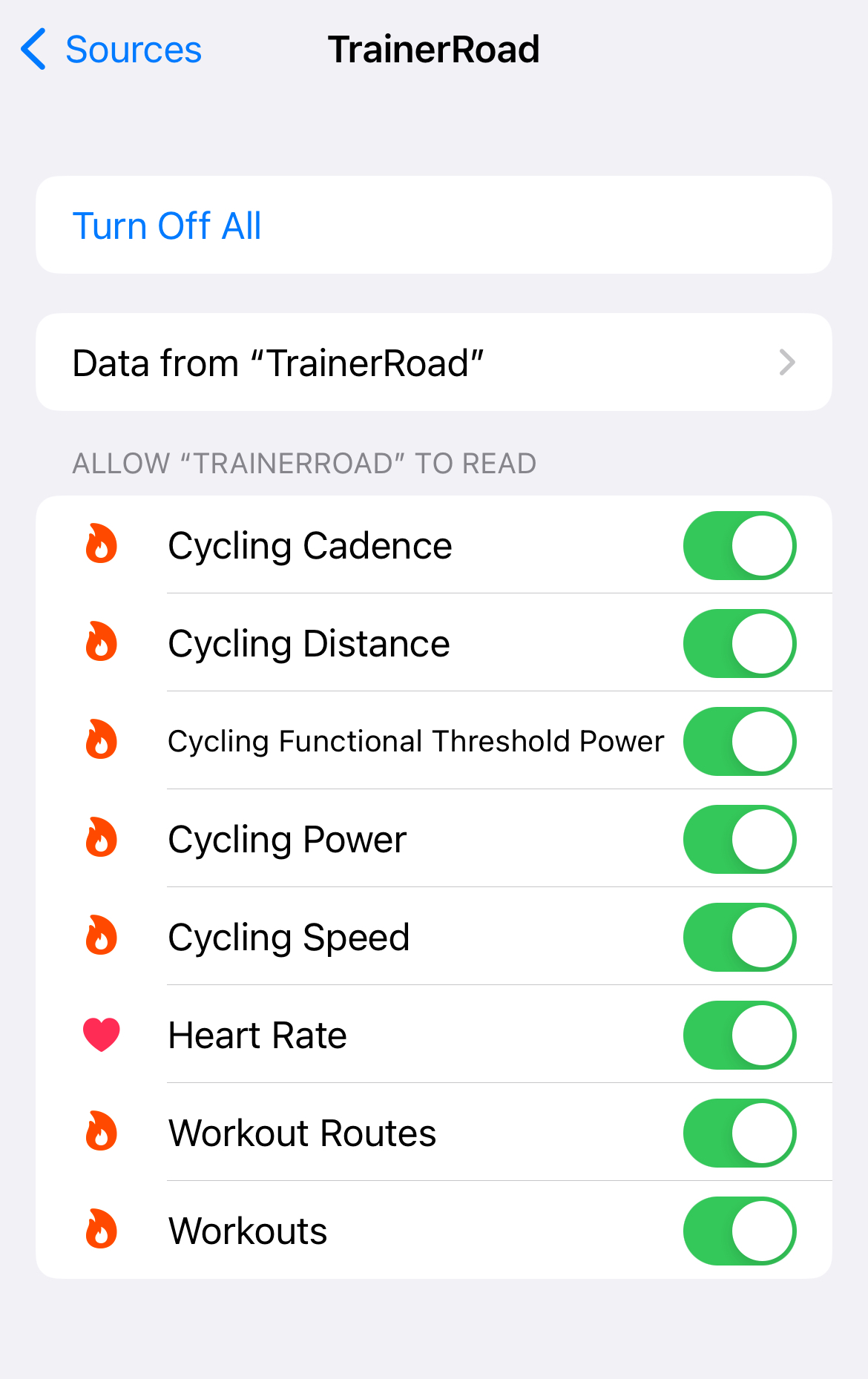 Which Models of Apple Watch and iPhone Are Required?
This feature is compatible with the Apple Watch Series 4 or newer as well as iPhone 11 or newer.