TrainerRoad athletes are able to share their TrainerRoad workouts with third-party websites such as Garmin Connect. You can connect your TrainerRoad via our Ride Sync feature so that all of your all your future completed indoor workouts will automatically export and be viewable on your Garmin Connect profile. 
How to Automatically Sync Your TrainerRoad Rides to Garmin Connect
1. Log into TrainerRoad to access your Account Profile.
2. Select "Ride Sync" from the menu on the left-hand side of the screen.
3. Click the option to "Connect with Garmin."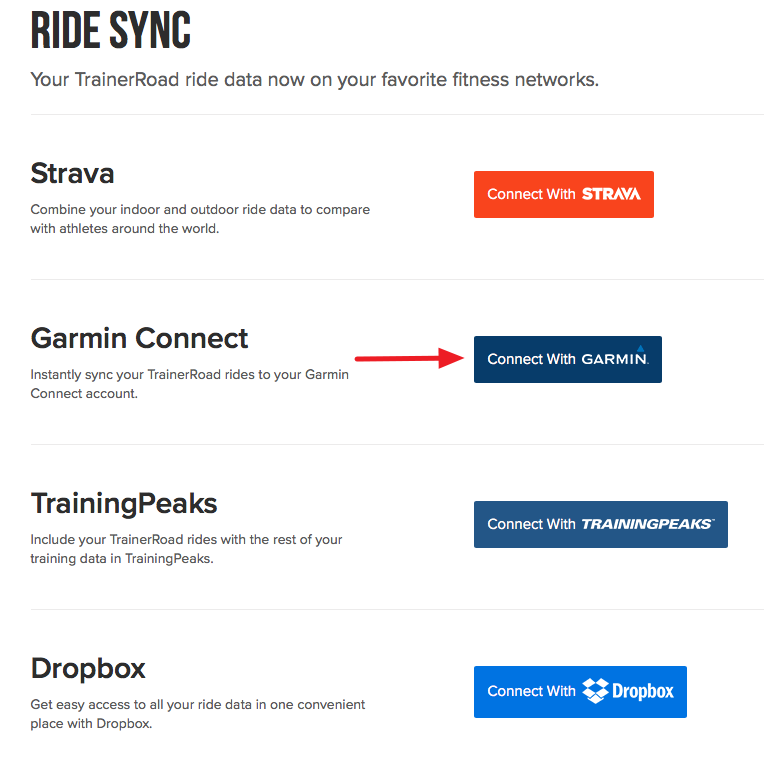 4. Authorize TrainerRoad to access your Garmin Connect account by selecting "Agree & Connect."
5.  In Garmin Connect, authorize TrainerRoad to access your Garmin Connect account and data.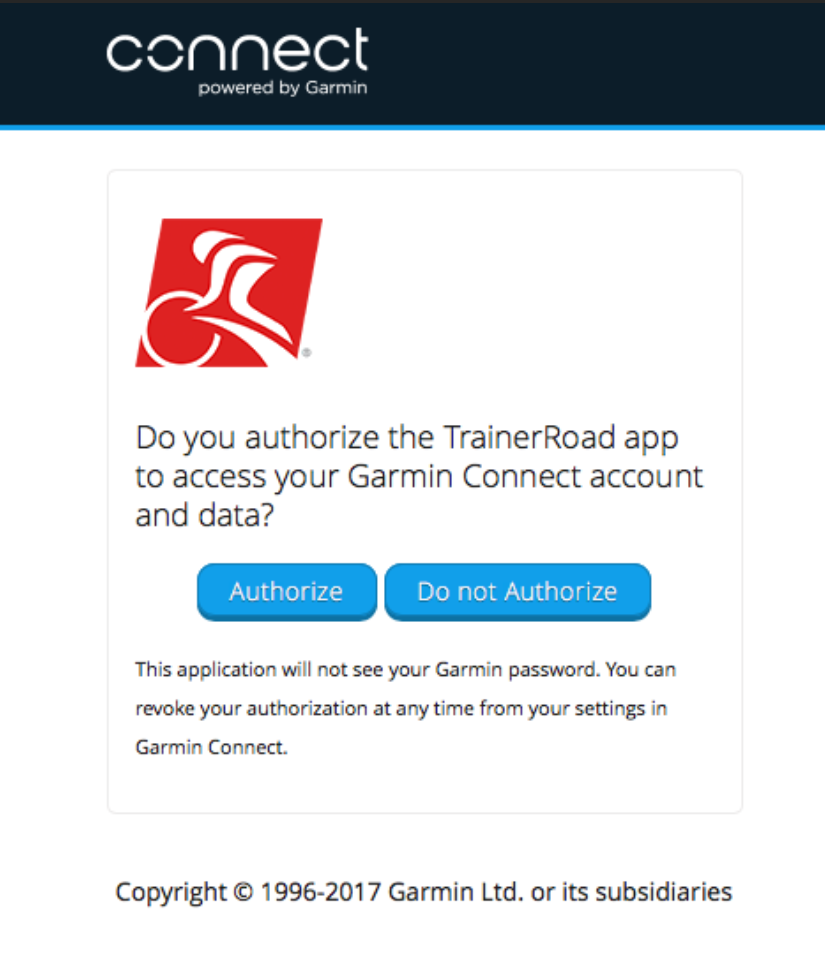 Important Things to Know
Your past TrainerRoad rides will not be synced. Once Garmin Connect is connected, all your future completed rides will automatically sync to your account.
If you have not set your timezone in Garmin Connect, your ride will show up under the default UTC date/time. You can manually edit the date/time in Garmin Connect by selecting Account Settings >Display Preferences >Upload Time Zone Setting.
If you've been offline for a week or more and you have a bunch of completed rides queued up, there's a chance some rides may not sync over to Garmin. This is because we're limited to sending 10 workouts/day per user. 
---
Manually Uploading Individual Workouts to Garmin Connect
You can also manually add completed TrainerRoad rides to Garmin Connect.  All you need to do is download your workout in a .tcx file — the file type required to upload rides to Garmin Connect. 
Here's how you do it. 
Obtaining the .tcx Workout File

There are two ways to download your TrainerRoad workout to upload to Garmin Connect:
1. Online
On the online Ride page, click the green "download" button in the upper right-hand corner. You'll use this to download your ride's .tcx file.  

2. TrainerRoad Application

Click on the Career tab, click on your workout, then click "Download".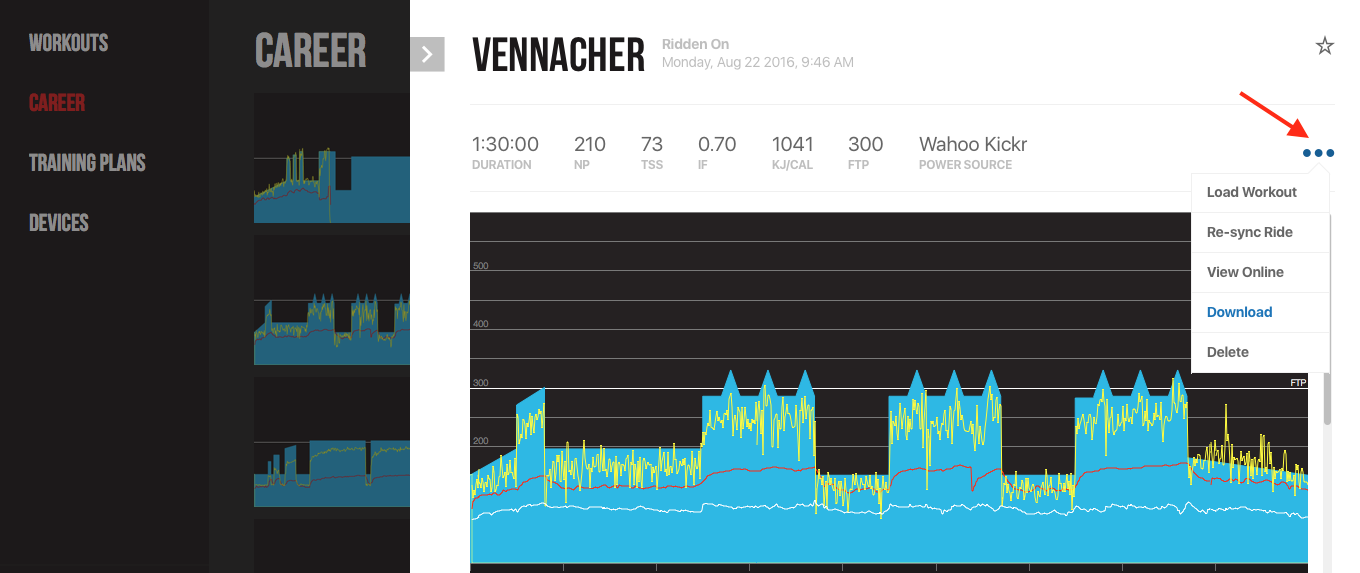 Upload to Garmin Connect
3. Next, log into Garmin Connect and select the "+" symbol.

4. From here, select "Browse" to search for your .tcx file.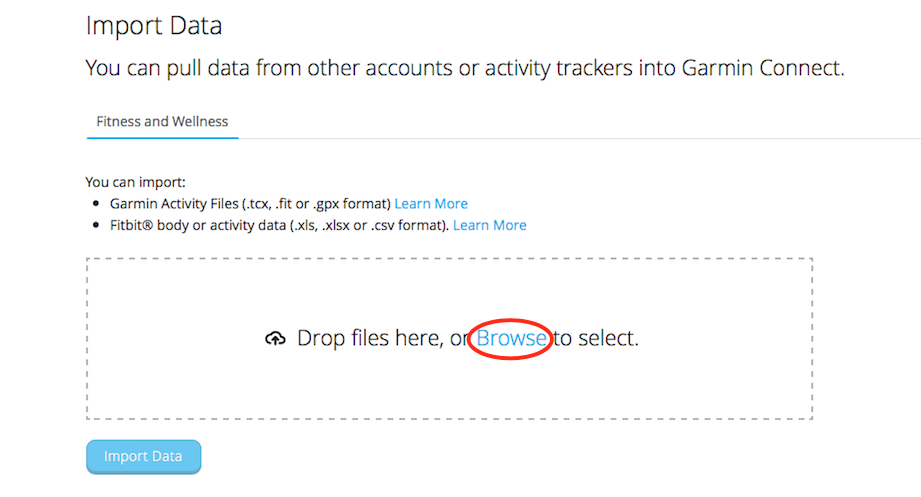 5. After you upload the file you'll be able to view the ride in Garmin Connect.