Relevance of Speed Indoors

A common area of confusion involves the relevance of speed readings when doing indoor rides. Are indoor speed readings accurate? Do indoor speed readings matter? The short answer is — no.

TrainerRoad currently doesn't display speed readings during Power or VirtualPower-based workouts. The "speeds" riders achieve indoors are often not representative of speeds they'd be going outdoors at equivalent power levels. Simply put, indoor speed readings can be misleading and don't really add any value to the workout.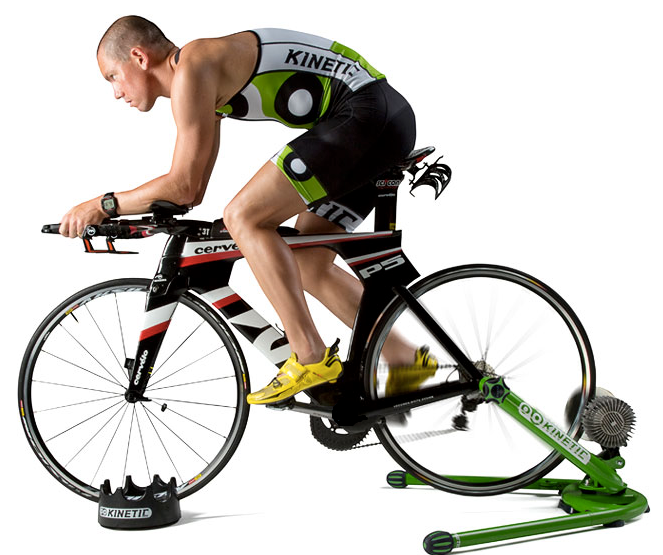 Speed Readings and VirtualPower
First, an understanding of what VirtualPower is and how it's derived will be useful in moving forward.
Now that you know speed is used to calculate VirtualPower readings, keep in mind that not all VirtualPower curves (the trainer's speed to power ratio) are very "road representative".
Furthermore, something called "rolling resistance" can affect speed readings indoors. For our purposes, rolling resistance is defined as the amount of pressure placed on your rear tire by the trainer's roller. See the Tire Tension section of this article for more information.
Speed Readings and Smart Trainers
Speed readings taken from a smart trainer set in ERG mode are arguably the least reliable. Having a basic understanding of how ERG mode works will be useful before reading on.
Speed readings are not reliable in ERG mode because the trainer will automatically adjust the resistance to ensure the rider is matching their wattage target — regardless of their gear or speed.
For example, a rider could shift gears and/or increase their cadence to bring their speed from 20-40mph during an interval with a prescribed wattage of 250. In order to keep the rider at 250 watts, the smart trainer will automatically adjust the resistance to make up for the change in speed. This means the rider's speed readings will indicate 40mph while their watts remain at 250. If the rider shifts back down to 20mph, the trainer will again adjust accordingly so they are still holding 250 watts.
(Incidentally, we recommend that you find a gearing/cadence that suits you and stick with it for the duration of your workouts in ERG mode. Shifting or drastically altering cadence can be disruptive to the workout as it takes the trainer several seconds to adjust.)
Virtual Speed and Distance
If you want a more accurate estimate of your speed and distance indoors we recommend using Virtual Speed. Virtual Speed is a TrainerRoad metric that uses power data and a physics-based model to estimate more realistic speed and distance data for your indoor TrainerRoad workouts that sync to Strava. To learn more about Virtual Speed and Distance and how to enable it check out: How to Enable Virtual Speed and Distance for Strava
Viewing Speed
Although we don't display it live, TrainerRoad does record speed. If you upload your workout via .fit file to a 3rd party application you will be able to view speed and distance data.
Option #1 (3rd-Party Site via Desktop App):
1. Open the TrainerRoad app and go to your Career tab

2. Find the workout you'd like to download, and click to the right of the workout's thumbnail for more options

3. Click the "Download" button that will appear
4. Upload the .fit file to the third-party (Training Peaks, Garmin Connect, Strava, etc.) of your choice.
Option #2 (3rd-Party Site via Online Career):
1. Open the workout in your online Career page
2. Click the "Download" button in the upper, right-hand corner of the screen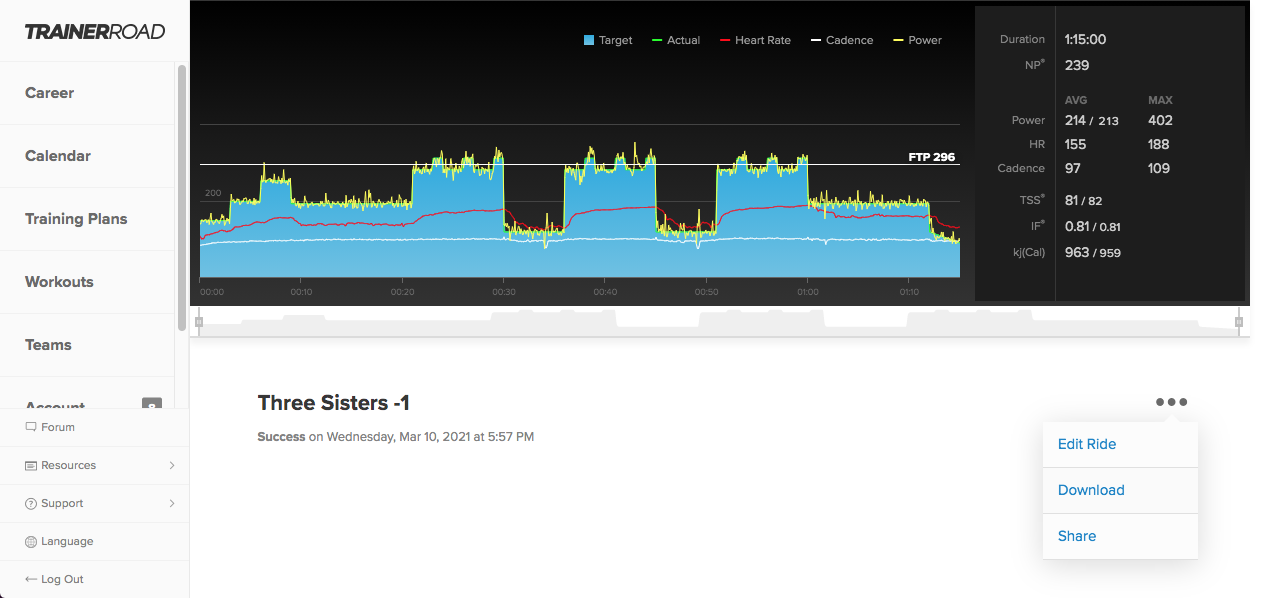 3. Upload the .fit file to the third-party (Training Peaks, Garmin Connect, Strava, etc.) of your choice.