Adding a custom Garmin screen allows you to select the metrics that are most important to you.  In the case of TrainerRoad outside workouts sent to Garmin, custom screens allow for an experience that most closely relates to doing a workout on TrainerRoad.
Navigating to Data Screens
To add a custom screen, navigate to the Activity Profile you would like to house it in.  Garmin allows for many Activity Profiles, so remember the one you choose to add your new screen to.
Step 1: Access the main menu by pressing the down arrow on your home screen.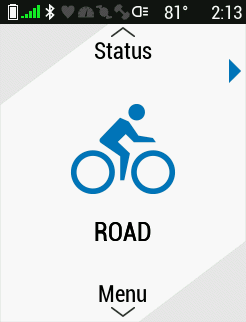 Home Screen
Step 2: Select "Settings" from the list of options in the Main Menu.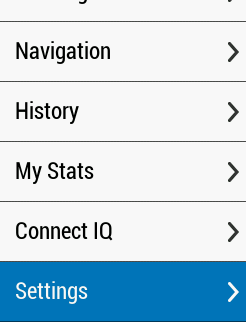 Main Menu
Step 3: Select "Activity Profiles" from the list of options in Settings.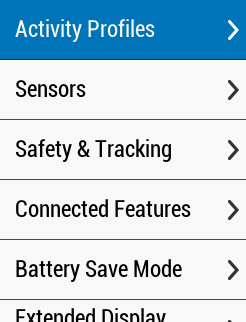 Settings
Step 4: Select the Activity Profile you wish to add your custom screen.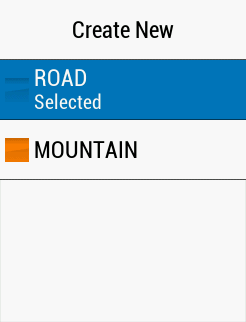 Activity Profiles
Step 5: Select "Data Fields" from the list of options in Activity Profile Settings.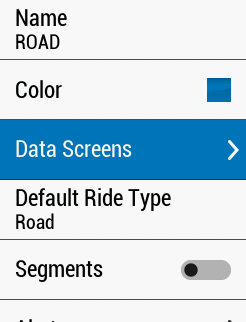 Activity Profile Settings
Adding Your Custom Screen
Once you've selected Data Fields you will see all available screens, in addition to the option to "Add New".  This will add a new customizable screen. Selecting an existing screen will allow you to edit the layout of that screen.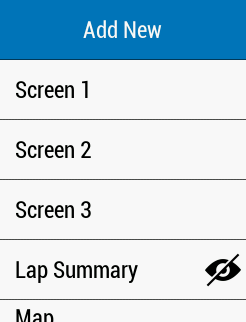 Activity Profile Screens
Select the fields you wish to add, followed by "Done". 
Note: Fields are nested within various categories, so you may need to drill in to find what you are looking for.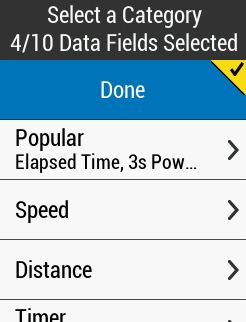 Data Field Selection
Once "Done" is pressed, you're all done!  Return to the training screen, select the correct Activity Profile, and navigate over to your new screen.
TrainerRoad Recommended Screen
For the closest thing to a TrainerRoad workout, we recommend the following Data Fields.
Elapsed Time
Shows the total time you have been riding.
Nested under Timer category.
3 Second Power
Shows smoothed instantaneous power.
Nested under Power category.
Lap Power
Shows average power for the current lap/step of a workout.
Nested under Power category.
Time to Go
Shows how much longer the current step of a workout is.  
Nested under Workouts category.
*For older generation Edge devices and all Garmin watches without the Time to Go field, we suggest Lap Time as an alternative.