Every athlete experiences interruptions to their training schedule from time to time. These interruptions can sometimes derail a season, but luckily for TrainerRoad athletes, this is where Adaptive Training steps in.
When you need to take time off the bike—be it due to illness, injury, or taking a break, Adaptive Training will make the proper adjustments to optimize your training for your goal events.
Note: We no longer offer the ability to push and/or pull weeks. This is because Adaptive Training effectively takes care of the process automatically without pushing your training plan a week forward, which could offset your plan from the date of your goal event.
What are the different types of Time Off?
Time Off
If you have any planned obligations that may interrupt your training, which may include:
Relaxing vacations

Family time around the holidays

Low-stress work functions

A much-needed break from structured training



These types of interruptions are unique because, if planned carefully, they can act as recovery time, which helps to minimize their impact on your training.
Injury
If you sustain an injury, you should consult a medical professional to see how you can proceed. Athletes who take time off from training due to an injury need to be sensible by listening to their body (and physician if applicable), then ease back into their training load. You can account for this time away from training by scheduling Time Off due to an injury, and Adaptive Training will take care of the rest.

Illness
If you fall ill, you should rest your body. If possible, meet with a medical professional to determine the full extent of your illness. Enjoy the time out of the saddle and use it as a break from structured training. Adaptive Training will ensure you reach your goals by taking this into account and ensuring your training is still on track by the time you can ride again.
Skipping Workouts
While the options below will allow you to account for scheduled time off preemptively, simply skipping a workout will still prompt the necessary adaptations with no extra input needed.
How can I add Time Off?
During Plan Builder
If you use our Plan Builder feature, you will have the option to schedule Time Off before your plan is created. Plan Builder now includes a step to add and plan around time off the bike when you're building a new plan. Haven't planned any time off yet? You can add it to your Calendar later (see below), and Plan Builder will automatically adjust your plan.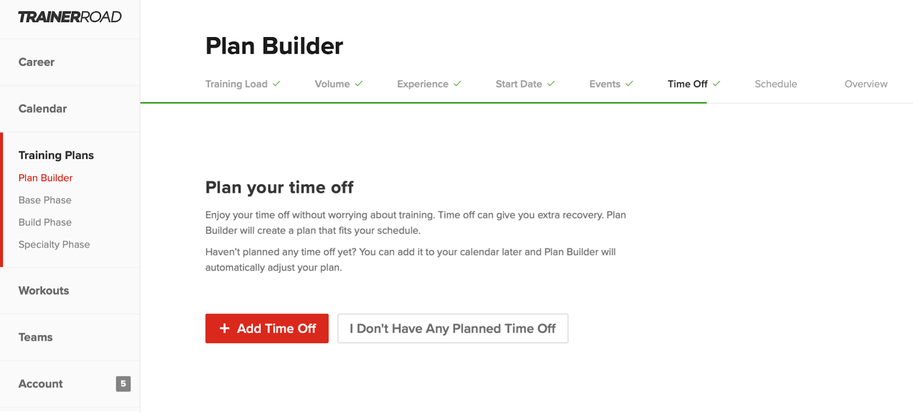 After a Training Plan has been created
If you have scheduled time off, you can add an annotation to your Calendar the same way you'd add a workout, races, etc. Athletes have always had the option to add notes to their Calendar in the form of annotations, but now with Adaptive Training, these same annotations can also be used to plan Time Off and specify a reason.
Planning Time Off via annotations will trigger Adaptive Training to adjust your plan to account for the time off. Simply:
Log in to the TrainerRoad application or website.

Click on the

Calendar

tab.

Click the "+" in the bottom right-hand corner or select the specific day on the Calendar.

Select "Add Annotation".

From there, enter your information.
Once you've added an annotation, TrainerRoad will prompt you to adapt your training plan to account for the Time Off.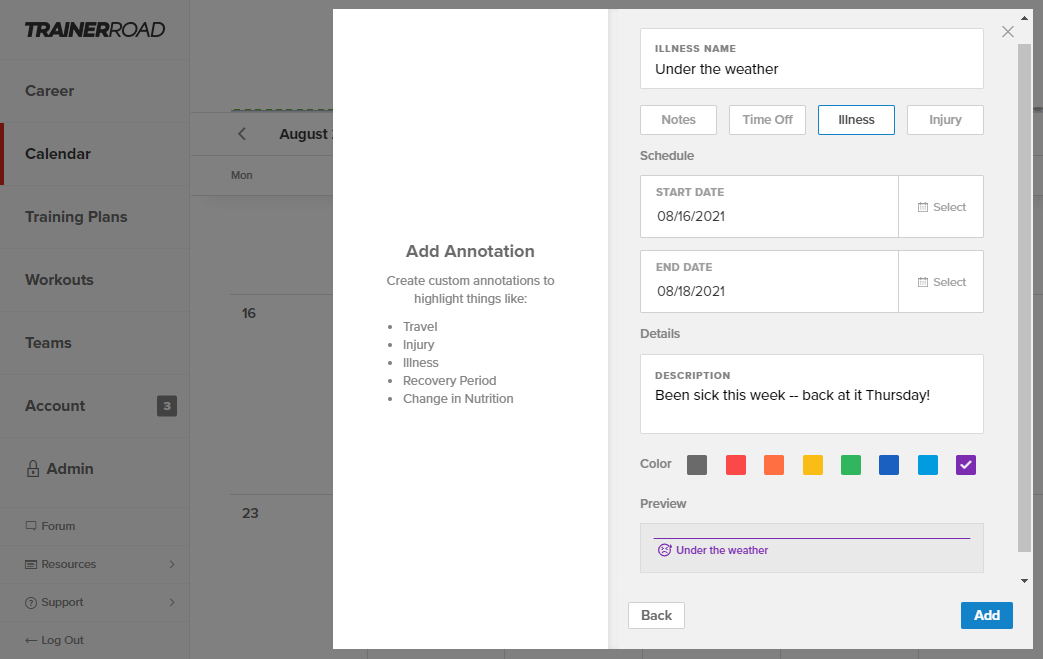 When you add the new plan to your Calendar, the Time Off you added via Plan Builder will automatically display as an annotation there.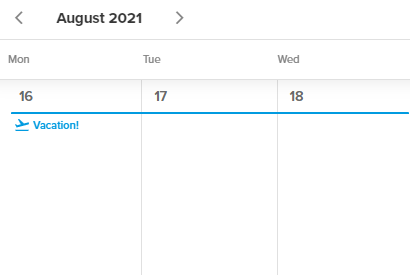 Time Off FAQs
How does adapting around planned Time Off help me get faster?
If you include your planned trips or other instances of Time Off the bike when creating a plan, Plan Builder can consider that Time Off and adapt your training appropriately to keep you on track. Plan Builder takes the guesswork out of the process and adapts your new training plan around your schedule, so it only takes a few seconds to account for Time Off, eliminating stress and uncertainty.
How does TrainerRoad adapt my plan to accommodate planned Time Off?
We balance your schedule constraints with progressing your training at an appropriate pace, considering both the Time Off and your future goals. In other words, we'll keep you on track without throwing you into something too hard right after your time off the bike.
What if I forget to add Time Off when I make my plan with Plan Builder?
You can add Time Off as an annotation at any time. View
this section of the article
for how to add Time Off after creating your training plan.
Can I delete or edit Time Off if my plan has already been built and added to my Calendar?
Yes. To do this, click on the annotation on your Calendar. If you want to delete the Time Off, click on the trash icon, and you'll be prompted to adapt your plan. Likewise, if you want to edit your Time Off, edit whatever is needed. If you edit the date range, you'll have the option to adapt your plan to the new schedule.
What if the dates of my Time Off have changed?
You can either edit the existing Time Off annotation in your Calendar or delete it and add a new Time Off with the corrected dates. In either case, Adaptive Training
will prompt you to adapt your training plan to account for the change.
Can I delete Time Off if my plan has already adapted around it?
Yes, you can! Navigate to your Calendar and click on the time-off annotation, then delete it. Adaptive Training will then prompt you to reconstruct your training plan to ensure you are still on track.
I have to miss one workout this week. Should I add a Time-Off annotation, or just skip the workout and leave it on my Calendar?
You can do either. If you add the Time Off ahead of time, Adaptive Training will adapt your plan before you miss the workout. If you skip the workout but leave it on your Calendar, Adaptive Training will suggest adaptations the following day. The only difference will be when you see the plan adaptations; choosing one method or another won't affect how it adapts your plan.
Why is a Ramp Test scheduled after time off?
If your Time Off means you'll go more than 14 consecutive days without completing a workout, you'll want to re-test and see where your FTP settled. You can easily get back on track, but doing so effectively will require recalibrating your power zones after time away from the bike.
I deleted a Time Off annotation and got different workouts for those dates than were originally scheduled. What happened?
We know it can help with motivation to keep things fresh! This means the workouts that are added back to your plan after you delete a Time Off annotation take into account a few things, including how your training has been going and making sure to add a little variety to the mix. For example, if you've increased your levels since creating the initial annotation, Adaptive Training will take that into account when adapting your plan.