The CycleOps PowerBeam Pro comes as either an ANT+ or a Bluetooth specific unit.  These are not convertible between protocols, but we do support both versions.
Bluetooth Powerbeam Pro

The Bluetooth Powerbeam Pro pairs like any other Bluetooth device. It is compatible with our desktop and mobile applications.  Here's how to pair Powerbeam Pro via Bluetooth.
1.  Open the TrainerRoad App
2.  Go to the Devices Tab
3.  Ensure that Bluetooth is On by checking the upper right hand corner
If Bluetooth is not on, you may need some additional hardware for your particular device.  To learn more about Bluetooth compatibility, see the Bluetooth Troubleshooting article in our Help Center.
4. Pair the trainer

If the Bluetooth is on and the trainer is in range, you should see the PowerBeam profile appear in the Devices Tab.  Simply click the Tab that represents the Powerbeam Pro and it will turn green, signifying that it has paired properly.
ANT+ Powerbeam Pro
The ANT+ PowerBeam Pro is a little bit trickier to pair due to the proprietary nature of the ANT+ protocol they use.  Due to this, the PowerBeam Pro is only compatible with the Windows Application and the Legacy Application (Mac and Windows).  We are unable to pair the ANT+ PowerBeam Pro with the Mobile Apps at this time.
Connecting the Powerbeam Pro with the Windows Application
1.  Open the TrainerRoad App

2.  Go to the Devices Tab
3.  Plug in your ANT+ stick 
After you plug in the ANT+ stick, make sure that it displays "Ant+: On" In the upper right corner of the screen.
4.  Click Device Troubleshooting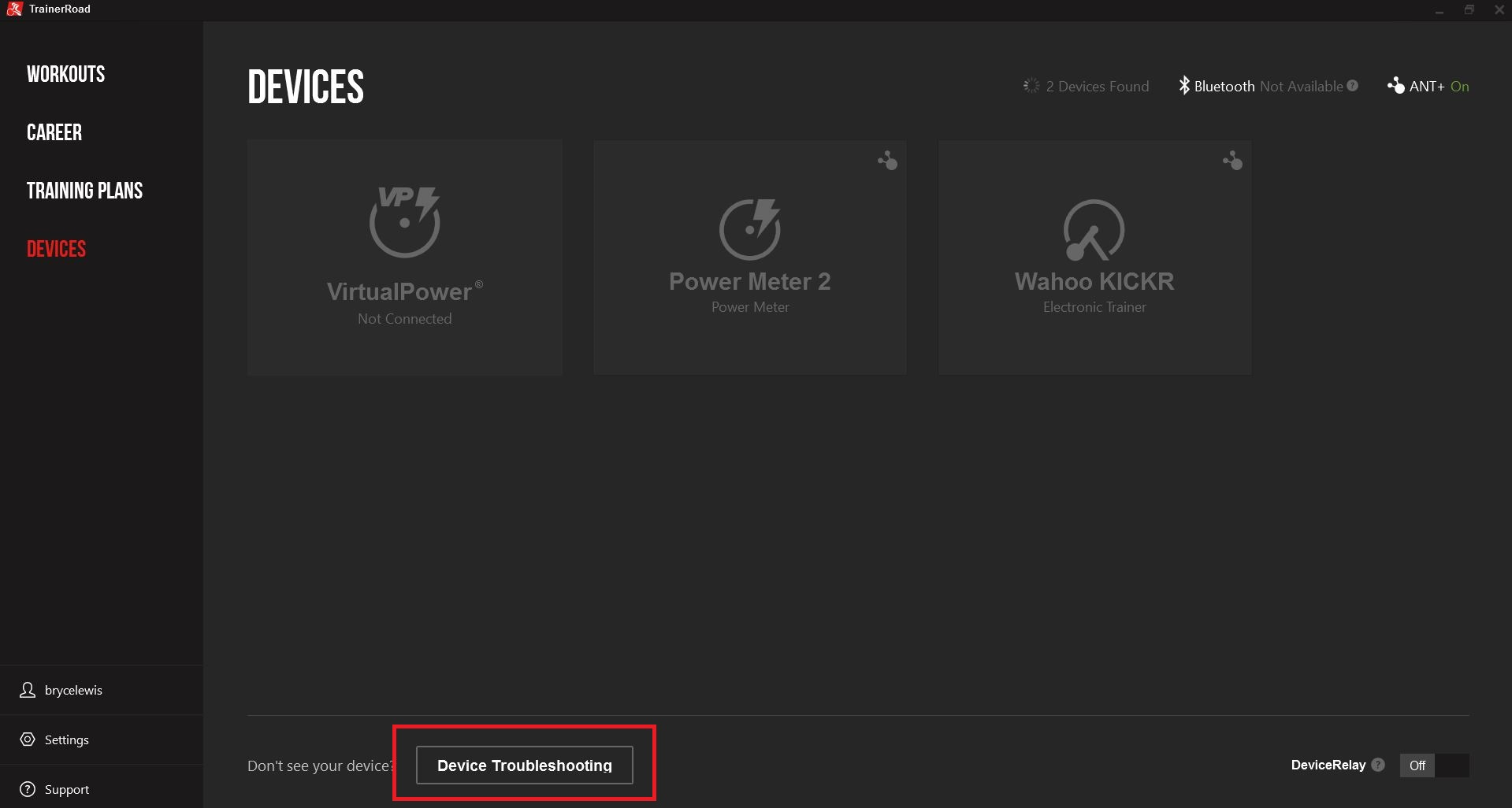 5. Click "Search" next to the PowerBeam Pro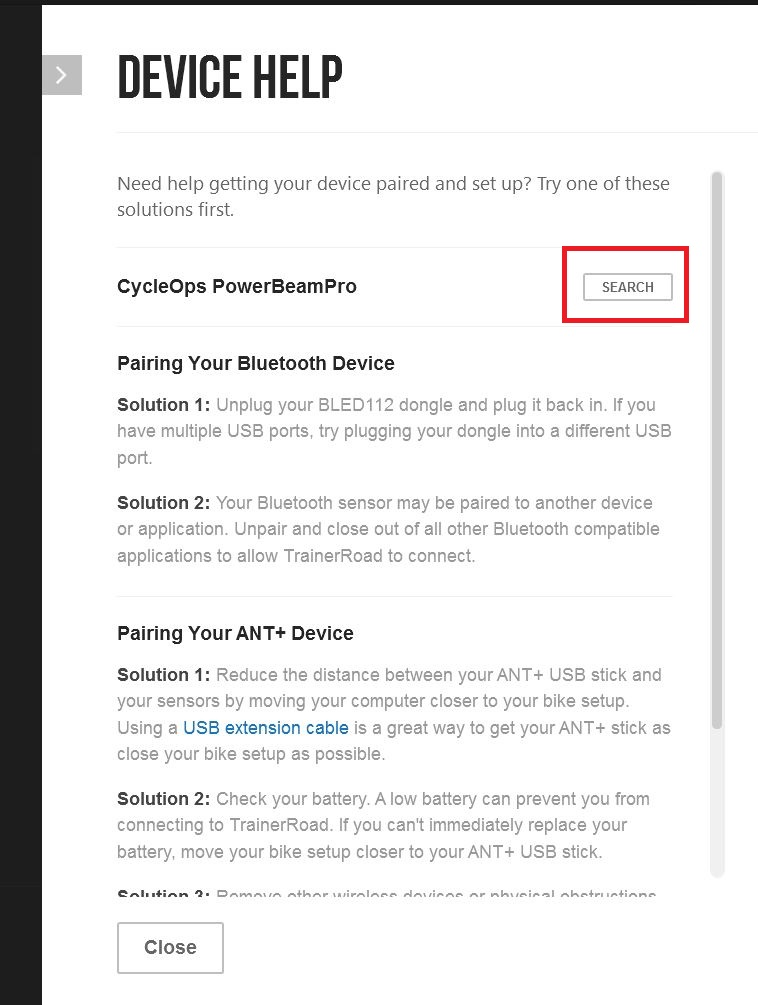 6.  Click Pair when the PowerBeam Pro is discovered

Once you do this, the PowerBeam Pro should show up Green in your Devices Tab, signifying that it has successfully paired.
Connecting the Powerbeam Pro with TrainerRoad Legacy
1. Open the TrainerRoad Legacy app.
If you do not already have this version of the app, you can download it here:
You will want to make sure to download the latest version of Adobe Air before you start the download.
***Note:  You should only download this version if you are using a PowerBeam Pro, all other users should download our latest version of the app on our Downloads Page.***
2. Plug in your ANT+ USB stick.
3. Go to the Devices tab.
If your screen looks like the one below after clicking the "Devices" tab, click "Search for ANT+ USB". If you don't see this button, then good news! TrainerRoad already found your ANT+ USB stick.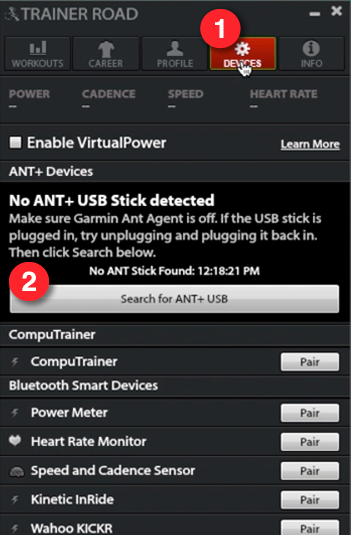 4. Search for devices.
After your ANT+ USB stick is connected, you should see this screen. Scroll down to where you see the PowerBeam Pro listed, and click "Pair." If you have an older Power Beam Pro, clicking "Pair" may not be successful. If this is the case, you can connect with TrainerRoad by clicking "Legacy" instead of "Pair."
The PowerBeam Pro works best when it's paired first — before any other devices. It won't pair if you're trying to pair other devices such as heart rate monitors at the same time.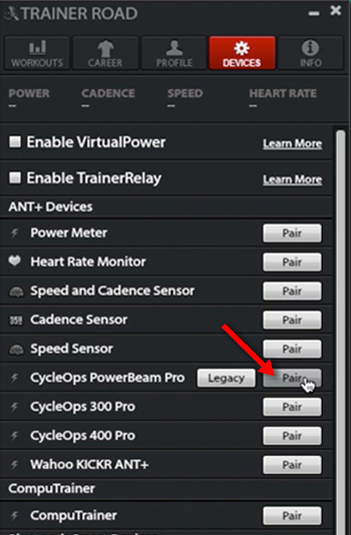 5. Once the device is paired, it's time to do a Spindown Calibration.
A Spindown Calibration aims to quantify the variable of rolling resistance (affected by tire pressure and trainer pressure) in order to get more accurate power readings. (Note: This should be done often, not just on the initial setup. Doing it every other ride, or even every ride, isn't a bad idea.) After pairing the device, look for the "Spindown" button below the mode selection button.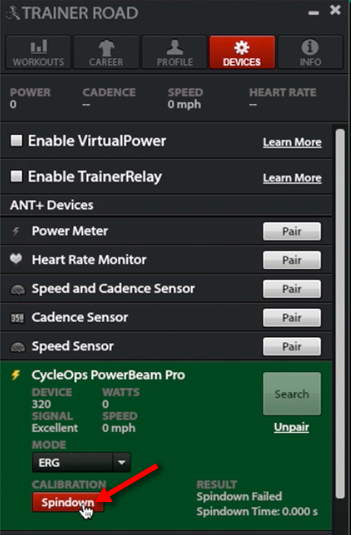 5a. Spindown Step 1.
As indicated in the window below, maintain a speed between 18-22mph for 120 seconds.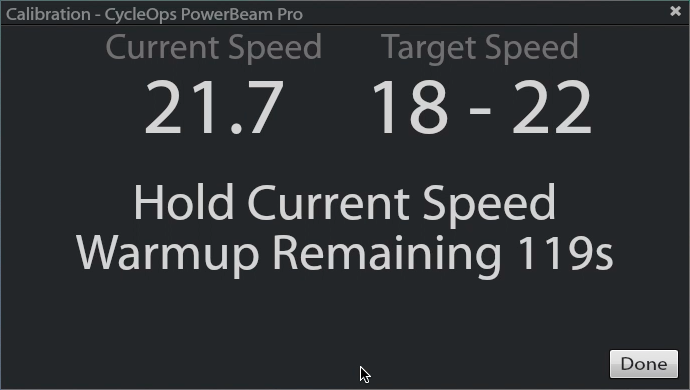 5b. Spindown Step 2.
After maintaining the speed for the indicated time, stop pedaling and let your bike coast to a stop.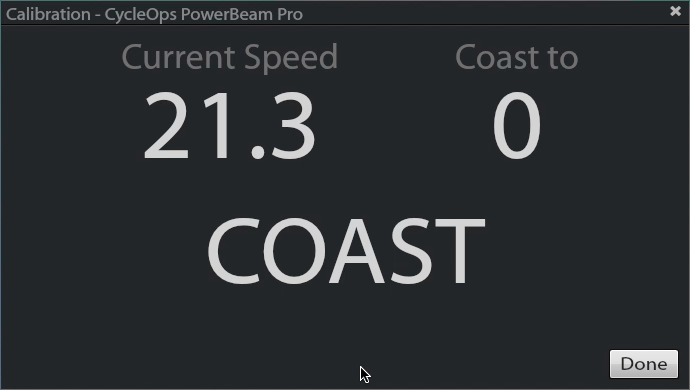 5c. Spindown Step 3.
Once your bike has coasted to a stop, you should see the following message. Click "Done" and you're ready to ride!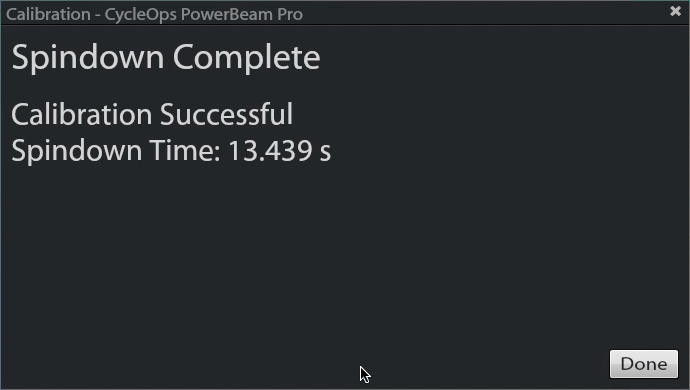 ---
Troubleshooting
Connection Problems
Visit our Device Pairing Troubleshooting page.
Are you having ANT+ USB stick issues? Visit out ANT+ USB Stick troubleshooting page.
Note that the PowerBeam Pro Smart or BT 4.0 is not currently supported by TrainerRoad. For now, we suggest that you pair the Power BeamPro Smart or BT 4.0 as a power meter.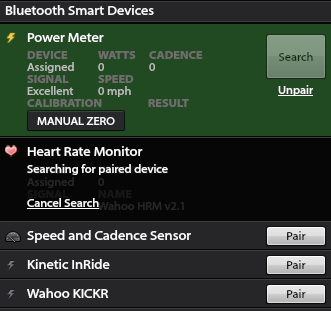 Spindown Calibration
Have you been spinning down your PBP and TrainerRoad says something like there's 65,000 seconds left? That's actually the PBP's way of indicating that something went wrong with the spindown. This is usually due following the spindown steps incorrectly. This error can also be caused if the signal was interrupted during spindown. In order to fix this, try the following:
1. Unplug and reconnect your power cord to your PBP (restart it) 
2. Restart TrainerRoad
Still experiencing issues?
Our support staff is here to help! Email support at support@trainerroad.com, and someone will get back to you right away.